Not much time this week to blog, unfortunately. The weather has been glorious – 70s by day, 40s at night, sunny, with one out of every three or four days dropping about half an inch of rain. Can you say "perfect for the garden?"
We've added another new garden bed to the east side of the house, and today the plants we ordered to complete the flower garden arrived. I am very upset with the nursery we ordered from;  I am going to wait and see what survives, then get a refund for anything that dies as per their guarantee. We shall see what lives….thank goodness I ordered tough plants like sedum and forsythia. They are hard to kill kind of plants but this mail order nursery looks like they were trying their darndest to prove the adage, "What doesn't kill you makes you strong."
Despite a full schedule of work, two hours of weeding, and three hours of cement work yesterday on the garden wall, I did head over to my neighbor's farm this week for a nice after dinner walk and chat.  I needed the stress relief of girl talk. Guys just don't understand why us gals need time with friends to talk; but really, it is as necessary as breathing, I think.
Here are pictures from our woodland walk. These are wild Virginia bluebells.  She has meadows of them down by their little patch of the river.  They have bald eagles on their farm too, but we did not see one during our walk, just a bunch of cattle that broke a fence line and decided to go wading.  Thankfully, her German Shepherd dogs were on patrol and herded the recalcitrant beasts back towards their official field.
Enjoy these pictures of spring on my neighbor's farm while I complete my office work for the day, then head outside to plant more flowers!  Looking forward to the rain showers predicted tomorrow so I can actually get some house work done; if it wasn't for rain, a gardener's house in the spring would always be messy.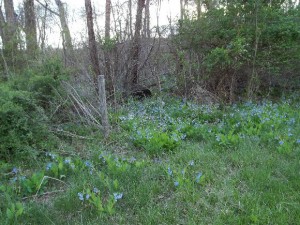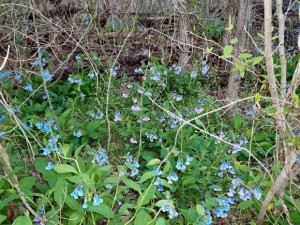 Jeanne Grunert is a certified Virginia Master Gardener and the author of several gardening books. Her garden articles, photographs, and interviews have been featured in The Herb Companion, Virginia Gardener, and Cultivate, the magazine of the National Farm Bureau. She is the founder of The Christian Herbalists group and a popular local lecturer on culinary herbs and herbs for health, raised bed gardening, and horticulture therapy.