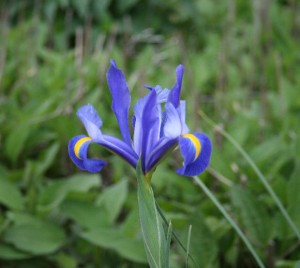 My new quote of the day (and it's mine so you can quote me): "Some women go shoe shopping, I go sedum shopping."  I wrote today about the joys and perils of gift plants versus garden center purchases on my weekly column/essay at Main Line Gardening.  I invite you to visit their site and read the fully essay.  Photos are from my garden.
Don't Look a Gift Plant in the Sepals – gardening essay for MainLine Gardening by Jeanne Grunert
I also received the nicest compliment this week from reader Barb over at SFO Mom (who also has a terrific blog, and you can find her link in my blogroll somewhere in the messy sidebar here).  She said, "Your book has given me confidence to start an herb garden this year."  I got a real lump in my throat at that comment. I've always wanted to inspire somebody and it is so nice to hear that my gardening book did that.  I want everyone to have fun in the garden.  It's so worthwhile, so rewarding to grow something – anything! – whether it's a little pot of geraniums on your front steps or a windowsill of basil and herbs.  Try it!
Jeanne Grunert is a certified Virginia Master Gardener and the author of several gardening books. Her garden articles, photographs, and interviews have been featured in The Herb Companion, Virginia Gardener, and Cultivate, the magazine of the National Farm Bureau. She is the founder of The Christian Herbalists group and a popular local lecturer on culinary herbs and herbs for health, raised bed gardening, and horticulture therapy.