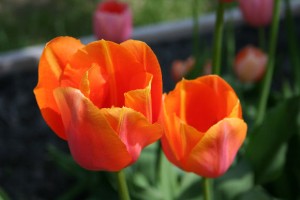 We've been working like crazy on the flower garden and today noticed that many of the shrubs are blooming.  I'd estimate that about 10% of the flowers are blooming, but the seeds are all germinating and the rest of the plants are taking off.  The butterflies are fluttering over to the phlox, and today we had hummingbird moths on the azaleas. I tried to take a picture of them but like their namesakes, they won't hold still!
I'll write another day about the new rose arbor. What a gift that was from my husband….he used up some large wooden fence posts we had just stored behind the shed and constructed a wonderful sturdy arbor for my Blaze climbing rose.  And to keep Blaze company, he came home from Lowe's with a new pink climbing rose for me.  But more on that later. For now, please enjoy the flower garden update – in pictures.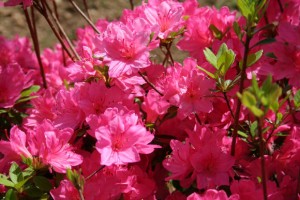 Azaleas are in full bloom now.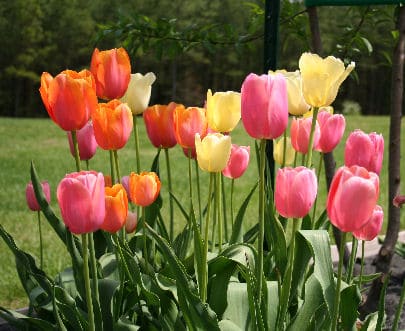 Easter-egg colored tulips just in time for Easter!
Jeanne Grunert is a certified Virginia Master Gardener and the author of several gardening books. Her garden articles, photographs, and interviews have been featured in The Herb Companion, Virginia Gardener, and Cultivate, the magazine of the National Farm Bureau. She is the founder of The Christian Herbalists group and a popular local lecturer on culinary herbs and herbs for health, raised bed gardening, and horticulture therapy.