The light was perfect this morning for garden photography, and I got some great pictures to share with you. But first – the highlight of our weekend work – the "keyhole" shaped pathway, leading a to nice garden bench.  The pathways in that area are finished, but we need more stones for the base under the bench. When you sit on the bench, you're nicely shaded by the trees, and you're looking up at the blooming hillside of the sunny garden next to the driveway.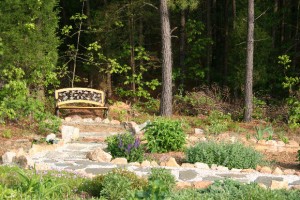 Look down the slope towards the butterfly garden, where salvia is the first to bloom.
I thought I would focus the garden tour in photographs on various plant groups.  Today's tour: flowering shrubs.
My gardening buddies asked me if we have trouble with deer nibbling the azaleas. Not this year, but last year an inquiring deer nibbled branches off some of the pink ones.  One of my friends wanted to know my secret.  My secret? Her name is Shadow, and it's called German Shepherd dog patrol. She chases them off and her scent is everywhere.  We haven't seen deer in the garden all year thanks to her.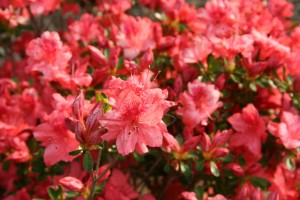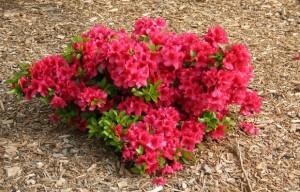 The pinks, salmon pinks and white azaleas this year are spectacular.  But I love rhododendron. We have four planted and two look like they're being chomped by insects. Not this one. This is my favorite.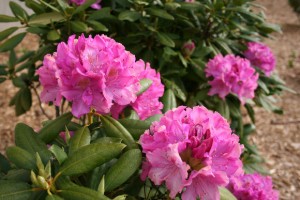 Next garden tour will showcase the many iris at Seven Oaks.  And then hopefully, the peony collection.
Enjoy!
Jeanne Grunert is a certified Virginia Master Gardener and the author of several gardening books. Her garden articles, photographs, and interviews have been featured in The Herb Companion, Virginia Gardener, and Cultivate, the magazine of the National Farm Bureau. She is the founder of The Christian Herbalists group and a popular local lecturer on culinary herbs and herbs for health, raised bed gardening, and horticulture therapy.