We've reached a new landmark on the Seven Oaks blog – 50 followers. Welcome! I hope you enjoy tales from Seven Oaks, our 17 acre timber farm here in the middle of south central Virginia.  For those new to the blog, we moved onto this little piece of heaven on October 1, 2007.  Since then, we transformed a bare dirt clearing into the gardens you see on this blog.  Almost everything we grow is grown 100% organically.  We grow fruit, vegetables, herbs and flowers for our family's enjoyment and consumption, and the rest of our land is planted with loblolly pine, a marketable timber crop used by the paper industry. Except for a little piece of land bounded by creeks on all sides and very swampy, almost everything here is pine trees. We're zone 6b in a good year, almost a 7, and in a bad year we're closer to a zone 6.  Old timers say that our town has its own zone and the farmers here tell me that is true; they have learned it's best in our little part of the world to read nature's signs rather than rely on the weatherman.
Spring 2011:  Blooming shrubs, perennials, pathways and hardscapes.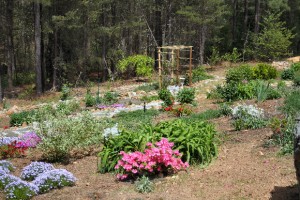 Spring 2011 – pathways, plants and more
Before moving to Seven Oaks, I lived on Long Island.  I worked as a marketing executive for a global publishing company in New York City.  I adore New York City, particularly the area around Lincoln Center where I used to work.  But I really love life in the country and life as a freelancer.
I hope you enjoy the Seven Oaks blog. Do leave a comment, and you can email me too.
Curious about how Seven Oaks got its name?  No, it's not because there are only seven oak trees on our entire property.  It's a funny story and you can read it here: How Seven Oaks Got Its Name
Thank you for following this blog!
Jeanne Grunert is a certified Virginia Master Gardener and the author of several gardening books. Her garden articles, photographs, and interviews have been featured in The Herb Companion, Virginia Gardener, and Cultivate, the magazine of the National Farm Bureau. She is the founder of The Christian Herbalists group and a popular local lecturer on culinary herbs and herbs for health, raised bed gardening, and horticulture therapy.