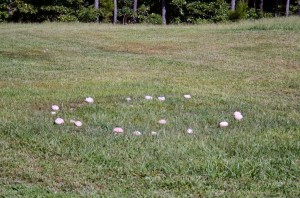 I walked Shadow around the flower garden today, and noticed with surprise that the lavender border I planted around the roses is blooming again.  Most years I get one beautiful show of lavender in June, then nothing for the rest of the season.  This has been the oddest fall temperature and plant-wise since I moved to Virginia. It's been very rainy, with five inches of rain in one week, and cool. Perhaps that has something to do with it? Perhaps the lavender thinks it is spring again? I can't quite figure it out.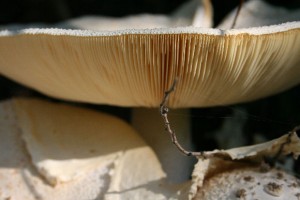 We have an odd vine that is growing out of the driveway, and it has set fruit. I'm betting it's a stray cantaloupe. I am careful not to compost the seeds and I did not grow any this year, but every once in a while a seed clings to the compost bin or to the rind, and my best guess is that a squirrel carried the seed with him across the driveway and accidentally planted it. The gravel driveway has made a neat little micro climate, and the heat radiating up from the dark gravel must be keeping the melon toasty warm during this cool snap. I wonder how long we can keep it alive? Every day we go outside and check out little melon. We guided the vines back into the flower garden so that the car won't run it over every time someone drives in and out.
In the vegetable garden, the tomatoes seem to have finally cried 'uncle' and given up. They're flopping this way and that with nary a tomato in sight. Shelob, the giant spider named after the spider in the Lord of the Rings series of books, still holds court in the tomato bed. She turned in the opposite direction, however, with her back facing the sun instead of her abdomen facing the sun, and she's turner her web now so that instead of it on a direct north-south access, it's slightly angled east-west.  Another thing that fascinates me but to which I have no answer. Did she sense the windy days we have had over the past week, with winds coming from the east, and change direction so that insects are blown into her web?
There are so many questions I have about my garden. Why did we get gigantic 'fairy rings' of mushrooms this year, not just in our yard, but in the neighbors' yards too? I'm talking gigantic 10-20 foot circles of perfectly formed mushrooms, the likes of which we have never seen before. Why was this a great year for peppers and a not so great year for tomatoes? Why did the spider angle her web different?  Why is my lavender blooming in September? And why oh why are all the dogwood trees already turning colors, and the under story trees, as if they sense an extra cold winter on hand?
I think that if you love a garden and you have even a modicum of curiosity, you will never be bored. There is always something to learn, explore and wonder about. It seems like every day as I walk to get the mail or just walk the dog, I stumble over another mystery, raise another question.
"I wonder" has become my mantra.
Jeanne Grunert is a certified Virginia Master Gardener and the author of several gardening books. Her garden articles, photographs, and interviews have been featured in The Herb Companion, Virginia Gardener, and Cultivate, the magazine of the National Farm Bureau. She is the founder of The Christian Herbalists group and a popular local lecturer on culinary herbs and herbs for health, raised bed gardening, and horticulture therapy.