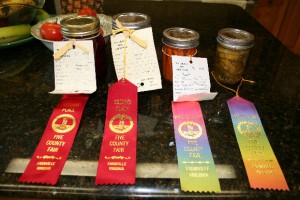 So….does anyone remember how I was terrified to can my first jars of garden produce?
How I was afraid I'd poison my whole family….picturing them writhing on the floor in the throes of botulism poisoning….
Bravely channeling the spirit of my Grandma Rudmann, born and raised on a farm in the valleys of southern Germany, armed only with The Ball Complete Book of Home Food Preservation and Preserving the Harvest, my husband's grandmother's speckled canning pot and a shiny new utensil box set from Walmart, I proceeded to can two jars of peppers, several jars of pears, and two jars of pear butter.
And my family liked it. They ate it. They actually asked for more.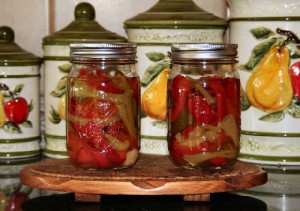 My first canning project, 2009
This is year three. I am proud to share with you that two of my canned produce items, my pickled beets and pickled peppers, took second place ribbons each at the Five County Fair. (The rainbow-colored ribbons go to all participants – it's like saying, "thanks for being brave enough to show off your stuff.")
I couldn't wait to show my husband my ribbons when I got home from picking up my items on Sunday.
It was the end to a perfect fall weekend. I couldn't help but think of my dad.  I spent many brisk October weekends as a child at the Long Island Chrysanthemum Society Shows at Farmingdale Community College.  I remember helping him pack up all his ribbon cards and the occasional bright silver trophy or two.
Placing my little jars on the counter with their ribbons put a big, goofy smile on my face. I did it.
I came, I saw…I canned!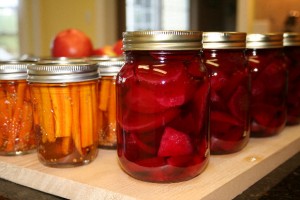 Five years ago I was working in a cubicle farm at 2 Penn Plaza, a gigantic office building right over Penn Station and Madison Square Garden, in New York City.  I was bored, stressed and overworked.  I was tired of the rat race. I yearned to write again but every day was a drag. By the time I came home at night, I was so tired that I couldn't imagine doing anything creative. My garden consisted of several shady beds in my in-laws garden since we didn't even own our own home; we rented rooms from my in laws. To say that I was unhappy with my life was an understatement.
But there was light at the end of the tunnel. We'd found the perfect land in south central Virginia in 2005.  It was so covered with pine trees and brush that my husband kept asking doubtfully, "Are you sure about this?" And as I looked around, a little voice inside of me said, "This is the place."  I was sure as sure could be.
We bought the 17 acres and had three cleared.  We built our dream house. My elderly father in law moved with us.  My husband helped me build a fenced in vegetable garden; 10 raised beds, a nice stout fence around it, a shed we painted to look like a country cottage. The steep area next to the driveway that he felt he couldn't mow safely with the riding mower I transformed into a blowsy, "wild" flower garden as my friend Ilsa called it when she came by last week for the book group meeting, with winding stone and gravel paths and arched rose arbors and a bench to sit and watch the butterflies.
I grew not only enough produce to feed us throughout the summer, but enough to can almost 40 jars of peppers, beets, carrots and pickles.  I have bins of potatoes in the basement and sweet potatoes from the harvest of 2010, all 79 pounds of them.  I have grown and stored onions and garlics too.  We planted 30 fruit trees.
All this in four years.
Those shiny red ribbons are more than second prizes in a county fair. They're confirmation of the right choices I made and the hard work we – not just me, but the "we" of our family – put into our lives.
I try as often as I can to share these stories with you because I want to encourage everyone reading this to do what Yoda told Luke Skywalker to do – "Don't just think. DO."   Don't waste your life in a cubicle farm when you have a dream in your heart.  Don't rest content with life as your parents scripted it for you if your mind and heart tell you otherwise.  God has a plan for your life, but you've got to listen and act.  You can make your dreams come true. I am doing that one day at a time.
It's not that there won't be fear at making great changes like we made. There was fear, and many moments of fear thereafter.  Fear that we'd made a terrible mistakes and that we wouldn't fit in. Fear that I'd never make friends like I had in New York. Fear that working from home would keep me isolated and that I would never make new friends. Fear that my business wouldn't succeed, fear that we'd use up all of our hard-earned savings.  There's been times of plenty and lean times too, but I have learned to just trust the flow of life and enjoy the moment while prudently planning for the future.
If you think you can, you can, and if you think you can't, you can't, or something like it Henry Ford once said.  What is holding you back?
Five years is not a long time but I look back at my life and it is like I am a new person, with a new life, yet I maintain a connection to all that was good in my old life. I still miss New York City and the smell of hot chestnuts roasting in the carts of street vendors near Christmas. The constant clang of Salvation Army bells and the sway of subway trains while the muffled voice of the conductor barks the next station. I miss the beautiful area I worked in on the upper west side of Manhattan, the free Lincoln Center concerts on Wednesday and bringing our brown bag lunches over to Alice Tulley Hall to listen to performers run through their programs while we happily ate our peanut butter and jelly sandwiches along with the rest of the workers who loved classical music.  I miss running out for Indian food at lunch, or "street food" from a pushcart, the delicious $1 rice and beans made by an immigrant, legal or not, from his push cart. I miss the weird synchronicity that only living and working in Manhattan makes you appreciate; running into a friend on the subway I haven't seen in over a decade only to find out we will now be working for the same company in Manhattan, running into an old grammar school buddy on the A train during rush hour, waving madly to a sibling I see crossing the street who I didn't even expect to see in the city  at all that day, only to find us in the same block hurrying to separate destinations.
Two red ribbons marking the new place and new chapter in my life.  Am I sorry they aren't blue? No, not at all.
Red is also my favorite color.
And there's always next year….because I'm not going anywhere at all.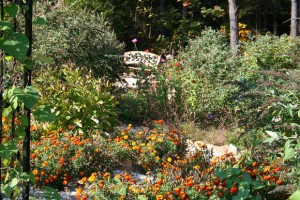 Four years ago, bare clay.  Today, blooming. Bloom where you are planted.
Jeanne Grunert is a certified Virginia Master Gardener and the author of several gardening books. Her garden articles, photographs, and interviews have been featured in The Herb Companion, Virginia Gardener, and Cultivate, the magazine of the National Farm Bureau. She is the founder of The Christian Herbalists group and a popular local lecturer on culinary herbs and herbs for health, raised bed gardening, and horticulture therapy.