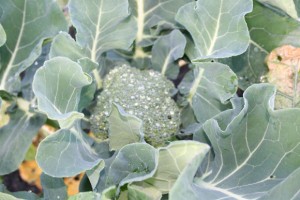 We picked the last of the broccoli and cabbage from the organic vegetable garden this past Thursday. Broccoli grown without any chemicals, without any pesticides, and left until after a frost or two has touched it is an incredible taste experience. It's sweet. I know that's hard to believe, especially for you broccoli haters out there (and you're numbers are legion.)  But it's true. Even my husband and his dad, who really don't like broccoli that much, perk up when they see me bring the bowl to the table now.
"Is that garden stuff or store stuff?" they ask me, spoon poised midway between bowl and plate with one lonely floret perched aboard.
"Garden."
"Good."  The spoon dips faster and faster into the bowl, and a big pile of broccoli moves onto the plate.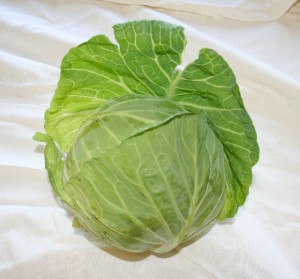 Organic cabbage, nearly perfect.
The cabbage this year was an interesting experiment. One beautiful head (shown here) is nearly perfect, without insect marks, blemish or issues. It's a tight head of cabbage, crunchy and sweet.  We have red cabbage growing too but it hasn't made a head yet. I don't know much about red cabbage and this is the first year that I am growing it, so I have left it alone.  If it doesn't do anything over the next few weeks I will harvest what we have and cook it to see what it tastes like.
We picked buckets more of turnips, beautiful globes with just the right tint of regal purple near the top like trim on a king's robes, and parsnips, long and gnarly, all resting in buckets in the garage. Since the garage is chillier than the basement right now, we're just storing them there until it gets below freezing consistently.  Then we will move them to the basement area where I've stored the potatoes.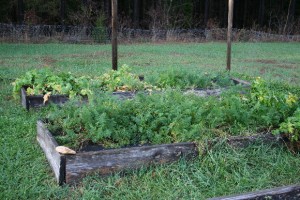 Foreground; carrots and parsnip.  In the background: turnips and second sowing of carrots.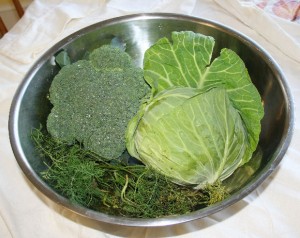 Late harvest: broccoli, cabbage, and a surprise find of dill that self seeded among the parsnips.
This year's gardening experiment were wonderful and helped me learn even more about what to grow.  We're busy planning for next year's vegetable garden. The herbs are going to be dug up and moved out into the unprotected portion of the yard – the space not fenced in.  They're really taking up a valuable garden bed, and we moved the mint without any issue. There's plenty now growing along the edge of the woods at the bottom of the orchard for our needs.  The oregano will meet a similar fate. It also grows like a weed, so come spring I will move the oregano, the remaining catnip plant, the sage and the lemon balm out of the valuable raised bed and into the open area. If the deer nibble it, so be it.
Next, we hope to add an asparagus bed.  I want an entire bed of asparagus. If I get a pressure canning device, I will continue to grow green beans.  I'm not going to grow the heirloom beans. They really weren't all that wonderful and the production was below expectations.  I will grow sweet potatoes again, and onions and I want to try leeks. I think the asparagus and leeks are going to be my big 'experiments' for 2012, but when the Parks and Burpee catalogs come in a few weeks…..I'll probably be enticed by something else.
To anyone reading this who is thinking about trying to grow organic vegetables – do it.  Don't wait and don't think you have to know everything. One of my pet peeves is that most gardening books make organic gardening seem like something esoteric, something difficult. They make it sound like you have to have a Ph.D. in chemistry and work all day long in the garden to get a single carrot.  Not so! Nature intended plants to grow organically! If you're just growing vegetables for your family, grow them organic. So what if a bug or two nibbles it?  You don't need the vegetables to live on – you're growing them to have fun, to supplement what you buy from the store. So do it.  Don't wait.  Grow your garden in 2012!
Rain drops on red cabbage leaves.  Nature creates beauty wherever I look.
Jeanne Grunert is a certified Virginia Master Gardener and the author of several gardening books. Her garden articles, photographs, and interviews have been featured in The Herb Companion, Virginia Gardener, and Cultivate, the magazine of the National Farm Bureau. She is the founder of The Christian Herbalists group and a popular local lecturer on culinary herbs and herbs for health, raised bed gardening, and horticulture therapy.