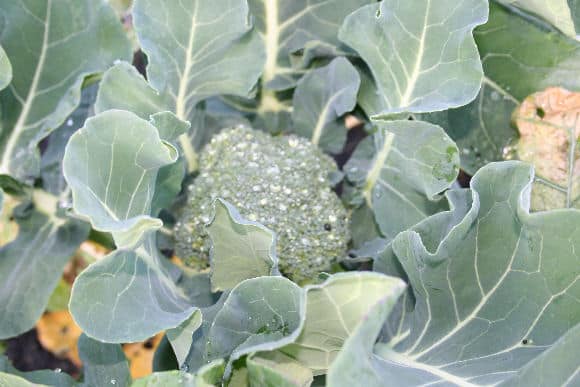 Yes, broccoli.
I went out to the compost pile this morning to throw the remains of breakfast – grapefruit rinds, pear cores, and a really awful orange that tasted like dry carpet fibers – into the pile. I discovered that the broccoli plants we'd composted over a month ago had continued to grow.  Mind you, the roots are waving in the air, there's no soil on the roots, and we chopped the main crown of florets off.  Oh, but broccoli doesn't care.  It produced a whole new crop of broccoli crowns along the thick trunk-like stem.
Despite several hard frosts, despite the fact that the compost pile sits under a dense stand of pine trees, despite no soil….I'm not quite sure how the darned thing did it, but it did it. It produced another crop for me.  And I picked it, and it's sitting soaking in cold water until I can eat it for lunch.
Have you ever met anything more generous in the natural world than plants?  Anything more amazing?
Even a broccoli can awe you if you look at it a certain way.
Jeanne Grunert is a certified Virginia Master Gardener and the author of several gardening books. Her garden articles, photographs, and interviews have been featured in The Herb Companion, Virginia Gardener, and Cultivate, the magazine of the National Farm Bureau. She is the founder of The Christian Herbalists group and a popular local lecturer on culinary herbs and herbs for health, raised bed gardening, and horticulture therapy.