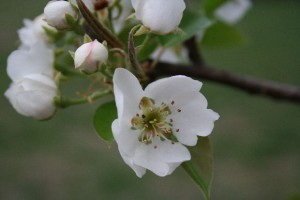 Bartlett pear tree in bloom
It's March madness in the garden as the spring temperatures continue – and it's technically still winter!  We've had two weeks of highs in the 70s and 80s and evening temperatures in the 50s.  This is mid to late April weather, perhaps May weather, and the trees, shrubs and flowers are responding by blooming.  I saw multicolored butterflies and moths fluttering about the garden today and I can only hope that whatever plants are currently blooming provide enough sustenance for them all.  I can't remember such a warm spring, not here and not in New York where I used to live.  Oh sure, you'd get the occasional warm day – I remember sweating through my suit jacket at a conference at the Helmsley Hotel in Manhattan on a particularly hot 90 degree April day, with the hotel management apologizing profusely for not having the air conditioners working yet nor having fans to circulate the air – but weeks of this type of weather? Unheard of!
Not that I'm complaining. It just seems as if spring has arrived, and fast, and I'd better play catch up.
On Saturday, I started gardening at 10 a.m. and aside from a brief lunch break, didn't call it quits until 3 p.m. By that time, I'd managed to get my share of splinters, cut my finger pretty good on a pair of garden shears, and scraped my inner wrist so that someone looking at it did a double take this past weekend. I think the poor man thought I'd done something horrible to myself on purpose,  but honestly, it was a thorny vine entangled with a Buddleia we cut down that gave me three long scratches right on the soft part inside my wrist, just where my gardening glove ends.  John saw it happen. Honest!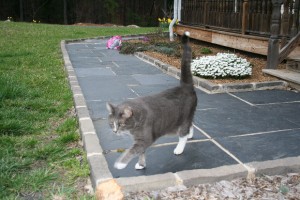 Pierre, my gardening kitty
Pierre and Shadow came outside to help us garden.  Shadow proved her worth by following the trail of the resident mole who is making my walks in the yard miserable. That darn creature left the vegetable garden, thank goodness, but now he's created a maze of tunnels in the back near the garden shed.  It's ankle-breaking stuff, those tunnels. You're walking along and BAM, next thing you know, your foot has sunk into the earth up to the shin!  Well, Shadow found that mole hole and I think she smelled a fresh scent. Suddenly she was going crazy digging, digging, digging.  She dug out the hole but no mole.  Later on that day, Pierre was also running crazily near the mole tunnels, zig-zagging this way and that. He went to the same spot and stuffed his whole face into the mole hole.  I was hoping he'd catch the creature but alas, it was too fast for him.  Shadow chased it out of the vegetable garden last year and it hasn't come back since then, but it has made itself quite at home in the back corner of the field, and I'm hoping that between the two of them, they have made its life miserable!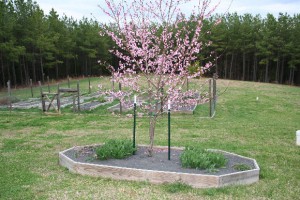 Blooming peach tree with vegetable garden behind it.
I settled on asparagus Jersey Giant and the box of 24 arrived from Park Seed last Thursday.  I kept them in a pail of moist soil in the garage until Saturday.  We decided to move all the herbs from the herb bed in the vegetable garden and use that bed for the asparagus.  It was a good idea, but we should have moved the herbs sooner.  First of all, the oregano had not only spread out to about half the bed, but it crawled under the wood frame and has now infiltrated my lawn back in the vegetable garden. I've got mint growing in some areas and oregano in others.  Mowing the lawn releases some interesting smells – you can't tell whether you're in a Bed, Bath and Beyond from the mint or in a pizza parlor from the oregano.
The cat nip stinks but we moved it one of Pierre's favorite spots, near the garden shed. We transplanted two and if it spreads out – so be it.  We can live with it.
The lemon balm and sage made it into the flower garden. The sage is so tall that we've named it 'sage bush' half jokingly.  It really does look like a bush out there.   The lemon balm is now under the wisteria, and I'm hoping it takes hold there and creates a carpet under the wisteria.
Unfortunately, two herbs didn't survive the move.  My rosemary, which I especially wanted to save, broke and we seemed to have lost the roots.  I've got the big stems drying in the garage now, so at least it won't go to waste. And my huge patch of yummy garlic chives, which I love to dice up and add to omelets, also somehow got lost. I suspect I will have chives now growing in my lawn to complement the oregano and mint.  I did manage to pot up a few chives, which I'll keep near the kitchen when the omelet urge strikes.
Removing the herbs also removed a good portion of the soil from the beds, too.  On Sunday, I made a quick run to Lower's after church to buy some soil.  We turned the compost on Saturday too and I squealed with delight – worms!  Big, fat, red worms, the best kind to find in a compost pile.  I know, I know, you may think worms are gross. But they're not.  I've never spotted them in my compost pile until this year and a good group of worms in there means they are doing their job and helping compost down all those kitchen scraps.  We dug down into the pile, turned it, and found lovely dark, crumbly compost – the kind that looks like chocolate cake.  Into the asparagus bed it went along with fresh soil and a bit of peat moss!
The other vegetables that arrived included a sampler package of 60 onions – three different types, 20 sets of each.  I can see red onions, white ones and a smaller one.  We planted those on Sunday, along with 48 bulbs of garlic.  I also planted seeds for Romaine and fancy micro greens on Sunday, and spinach for salads.  I added radishes and my beloved broccoli rabe to the garden this weekend, too.  My mouth is watering thinking about sauteed broccoli rabe with olive oil and garlic and white beans.  I can live off of that and frequently do enjoy it for lunch throughout the spring.
Last but not least, we cleaned up the strawberry beds.  We moved some strawberry 'daughters' and added compost.
The peach trees are almost finished blooming, and now the pears are in full bloom in the orchard.  This picture shows me standing next to a peach tree. Can you see me in my pink top? That shows you just about the size of the trees. I am tall, nearly 6 feet tall, so that gives you some perspective. The daffodils are blooming throughout the orchard too and it is just so beautiful.  I know it to be true, because both our mail carrier and the UPS guy said so.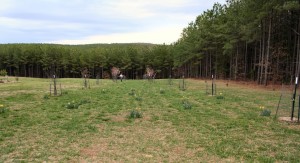 The orchard – I'm the spec in pink next to the blooming peach tree.
March madness…spring gardening…and we are a few days from the official start of spring.  The windows are open, the bird houses are hung. Let the gardening begin!
Jeanne Grunert is a certified Virginia Master Gardener and the author of several gardening books. Her garden articles, photographs, and interviews have been featured in The Herb Companion, Virginia Gardener, and Cultivate, the magazine of the National Farm Bureau. She is the founder of The Christian Herbalists group and a popular local lecturer on culinary herbs and herbs for health, raised bed gardening, and horticulture therapy.