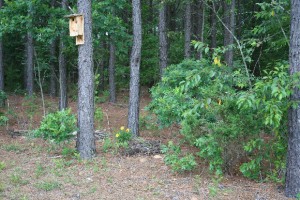 See the day lily at the base of the pine tree? Discarded root that grew.
I've often said that nature is resilient, and the day lilies blooming  at the edge of the woods prove it. This spring, we dug up many plants in the island bed in the center of the front lawn.  Some were so overgrown with grass, probably seeds blown in from the lawn, that we could not untangle them; we tossed them into the woods to let nature compost them.  One plant was the Stella d'Oro day lily.  I had another, and I was able to transplant a bit of the roots into the flower garden by the driveway. The root took, and now I have another one there, and so I was content. The rest of the root system, totally entangled with thick grass, was thrown into the woods and forgotten.
Then this spring – a flash of bright gold among the leaves.  Shadow and I investigated. Not only had the tangled bit of roots taken hold and grown, but an abundance of flowers greeted us.
Sometimes I feel a bit like the tangled roots of the day lily.  I root, grow and bloom not just where I choose, but where life sends me.  Sometimes this is where I wish to be, but when I am open to the spirit, it may be where I never thought in a million years I would be – but it is exactly where I should be.  Here I set down roots, flourish, bloom.
Nature is indeed resilient.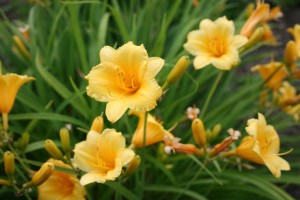 Stella d'Oro Daylilly
Jeanne Grunert is a certified Virginia Master Gardener and the author of several gardening books. Her garden articles, photographs, and interviews have been featured in The Herb Companion, Virginia Gardener, and Cultivate, the magazine of the National Farm Bureau. She is the founder of The Christian Herbalists group and a popular local lecturer on culinary herbs and herbs for health, raised bed gardening, and horticulture therapy.