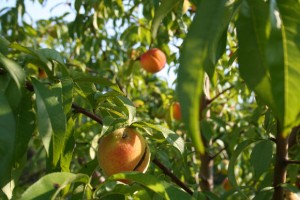 Peaches ripening on one of our trees (photo by Jeanne)
My dad, God rest his soul, had a lifelong hatred for squirrels. When he was a kid, his family went away on a long trip. They were gone for several weeks, and while they were away, a squirrel found its way into the house.  It made a mess of the pantry and kitchen, then damaged a great deal of their furniture and windowsills trying to escape.  Because of that incident, he always hated squirrels.
I always felt rather sorry for the squirrel in his story. After all, can you imagine falling down the chimney and finding yourself in a strange environment, desperate to escape?  I'd gnaw the windowsills, too.
I'd hear stories of gardeners just raving about squirrels, but I never understood how they can make a gardener crazy mad until now.
We had about 30 peaches on the peach tree by the kitchen. We tasted but two and eagerly watched them ripen. We noticed large green beetles attacking the peaches, but there were still plenty of fruit left for us. Until today.
Ever single peach has been stripped from the tree.
Pits litter the raised bed.
My father in law saw the culprit: the squirrel.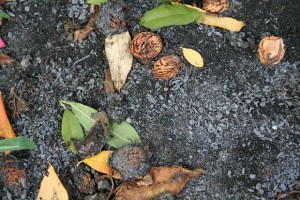 After…nothing left but the evidence, pits! (Photo by Jeanne)
This same squirrel raided the bird feeder by the vegetable garden. I stopped filling the feeder in the hopes it would deter him.  He next ate through the chicken wire around the vegetable garden.  My husband found him happily devouring the strawberries. We shooed him out of the garden and closed the hole.  Well, Mr. Squirrel still has his sweet tooth.  He decided to climb the peach tree and eat every single peach.
All I have left are…the pits.
Is it wrong to wish Mr. Squirrel severe gastric distress for his gluttony?
Dad, I really do understand your thing about squirrels now. I really do.
.
Jeanne Grunert is a certified Virginia Master Gardener and the author of several gardening books. Her garden articles, photographs, and interviews have been featured in The Herb Companion, Virginia Gardener, and Cultivate, the magazine of the National Farm Bureau. She is the founder of The Christian Herbalists group and a popular local lecturer on culinary herbs and herbs for health, raised bed gardening, and horticulture therapy.