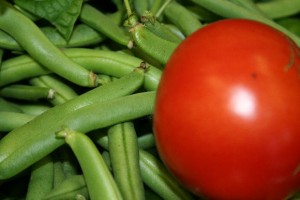 Green beans and tomato
We've had a bountiful harvest from the vegetable garden in 2012, although some surprises and failures along the way. At the start of this year, I promised I'd share with you more about vegetable gardening – what worked and what didn't, how much it cost to grow what we grow and the estimated savings from the yield.  Here's the report, with a lot of guestimates thrown in since life got a tad bit busy on me this fall and I had a lot on my plate taking care of things on the home front.
We grew the following vegetables in the raised bed garden this year. All were grown organically – I didn't use any pesticides or commercial fertilizers, just a lot of compost and good starting soil, a blend of compost, clean fill, and peat moss.
What we grew and the estimated yield:
Asparagus – newly planted, so we did not harvest anything this year. We spent about $16 on the plants. I'm still learning all the ins and outs of growing asparagus, but the plants all took root and grew large and fern-like. The fronds are changing to a nice golden color, but more brownish than gold.
Beans – green beans only this year. I did not spend anything on the seeds (had some leftover from last year). Even though the seeds were a year old, the beans were prolific. I canned about 32 pints of green beans.  We lost some to the frost, gave away some, and froze about two gallons of green beans. The frozen ones never taste as good as the canned ones.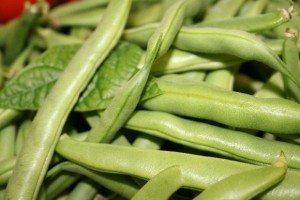 Green beans…
Beets – poor yield this year. I used seeds that I only realized until it was too late were about two years old, not one year old as I thought. Still, we ate about four meals' worth of fresh beets from the garden and I canned 8 pints of pickled beets. We are still enjoying pickled beets canned last year!
Broccoli rabe – surprisingly poor yield this year. I love this green, leafy and slightly bitter vegetable and only grew enough for two meals. Seeds were $1.95 and only available by mail order.
Fruit trees – we actually had peaches this year and two pears. The few peaches we picked before the June bugs and squirrels got them were delicious. What a flavor – like nothing I have ever tasted from the store. A sweet vanilla-honey-peach taste that was outstanding. The pears rotted before we could pick them. Hopefully with each passing year, there will be more fruit. We are still waiting for the apple trees, plum, apricot and cherry trees to produce.
Garlic – ugh! My poor garlic! I spent nearly $10 on elephant garlic cloves and the yield was dreadful. I saved the tiny cloves and replanted the crop this fall.  The first time I grew garlic, I planted it around Columbus Day (October) and harvested around Father's Day (June) and it did well.  This year I tried a spring planting and it was disastrous. I'm going back to the fall to spring cycle and see if things improve.
Herbs – I stuck with chives, basil and dill this year and all grew well. I saved a basil plant. It's in my plant room in the house and I love the fresh basil for cooking during the cold months.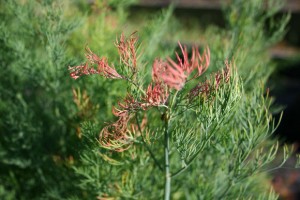 Dill – with a bit of fall color
Horseradish – horseradish was my experimental crop this year. I've never planted it before. We did get one root but I am not optimistic about it. I still need to grate it up and prepare it. It's sitting in the garage, a knobby, ugly thing.  I think I'm a little afraid of it.
Lettuce – nice crop of Romaine and fancy red leaf, oak leaf, and other lettuces this spring. Seeds were about 99 cents for the fancy varieties and 20 cents for Romaine.  When you consider that a head of Romaine lettuce at the supermarket is at least $1.50 for a conventionally grown Romaine lettuce, and I spent 20cents on seeds and green the lettuce organically, that's a true bargain.
Onions – I spent about $12 on a variety pack of onion sets from a catalog and grew Texas sweets, yellow onions and red Spanish onions.  The yield was good, about 10-15 pounds or more, but they didn't store well in the basement and I lost some to sprouting and rot. The taste was excellent, and I was able to make several pots of onion soup as well as use them for other cooking tasks.  Best of all, we missed some during the harvest and it appears I'll have a spring onion crop as I've got another dozen coming up – surprise!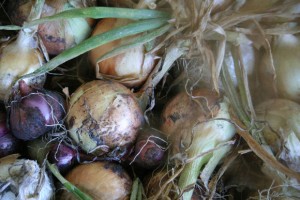 Lovely mix of onions from my garden this year.
Peppers – the peppers, as usual, were prolific. I spent 99 cents on a seed packet of California Wonder, the big sweet bell peppers we love, and I had a garden overflowing with peppers. We ate sausage, peppers and onions nearly every week starting in August; I made pepper steak and stir fry recipes; and canned about 30 jars of peppers, as well as froze several quarts for wintertime use.  And I still have a bag of fresh peppers in the fridge. Yum! Talk about a value…organic peppers were $1 EACH at the supermarket this summer. I cannot begin to estimate how many peppers I picked from the garden this year but easily it was well over 100…so for an investment of 99 cents, the yield was $100 worth of organic peppers. AMAZING.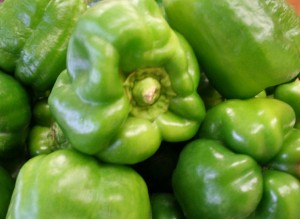 Peppers grew very well this year.
Potatoes – I spent $2.50 on a bag of Kennebec seed potatoes.  They didn't even sprout. What did sprout were the descendants of the Yukon Gold potatoes my friend Mel gifted us with two years ago.  The Russet descendants were okay, but not great.  We harvested a total of 102 pounds of potatoes from the first year and I have another 20 pounds in a bucket keeping cool in the garage that we harvested this fall.  The Yukon Golds by far out performed the Kennebec and Russet potatoes, and they make excellent mashed potatoes, which are my family's favorite. Potatoes are easy to grow and although the leaves did get attacked by potato beetles, it did not affect the yield or quality of the potatoes themselves.  I just let them be, let the bugs take their share, and enjoyed my potatoes without any chemicals used on or near the plants.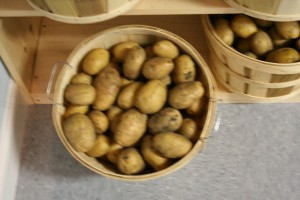 Potatoes…easy to grow for me….
Sweet Potatoes – back in 2010 when I first grew sweet potatoes, my $16 investment in the starter plants yielded 63 pounds of sweet potatoes that lasted a full year.  This year, that same investment yielded only about a third of that crop. The early heat and drought followed by more temperature and rainy weather seems to have set them back a bit.  Still, we do have some nice sweet potatoes in store to enjoy later.
Squash – the winter squash was disappointing this year. I think I started it too late. I was trying to outwit the squash beetles. Every year, they swarm my plants and kill them – summer squash and winter alike. So I timed my planting to add the squash later, after the beetles finished their reproductive cycle.  They typically lay their eggs on the leaves and the nymphs kill the plants.  Well, no beetles and no nymphs, but early cold snaps killed the plants. Two acorn squashes for six plants is not a good yield.
Strawberries – the strawberry bed is maturing, and producing two crops per year.  The spring crop was great but the fall crop disappointing.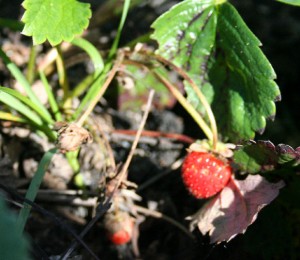 I was picking strawberries right up until the first frost this year.
Tomatoes – the tomatoes started out great. Then the derecho, the big straight line winds, hit in late June and knocked over all my plants. After that it was all downhill. I had a big, nasty jumbled of tomato plants and it was difficult to tend them. We did have some nice tomatoes during the summer, particularly the Sonic variety that my friend Liz told me would do well. Liz does a great program on tomato growing for the Master Gardeners and her advice was helpful.  I'm skipping the heirloom varieties next year; all were disappointing. Sonic, Early Girl, Beefstake and Sweet 1000's for us.
Turnips – great harvest yet again on the turnips.  99 cents worth of seeds and about 20 pounds of turnips. Love them. So easy to grow, so tasty!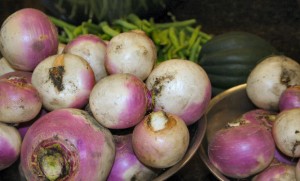 Turnips…rich in vitamin C, and another vegetable I find easy to grow.
Zucchini – I have never picked so many zucchini in my whole life. Zucchini that grew overnight. All those old jokes about leaving bags of zucchinis on the neighbors' porches came to life.  I baked a total of 122 zucchini muffins and a dozen loaves of zucchini bread.  We still have them in the freezer. Fortunately, they do freeze well, and it's nice to have fresh zucchini muffins in the cold weather.  A taste of summer remembered….
We are still awaiting the fall vegetable crop. The cabbage and broccoli look promising, but all I've managed to grow this year of cauliflower are some mighty healthy looking leaves…can't find a hint of cauliflower. But then again, until last week, I thought the broccoli wasn't going to produce, and there was a nice floret, hiding among the leaves. The vegetable garden never fails to surprise me. Year after year, we grow enough food to enjoy fresh throughout the season and preserved throughout the winter. And it sure beats paying expensive supermarket prices, especially for sub-par, older produce that may have been trucked from coast to coast.  I love walking out the back door and across the year, picking some beets, and making dinner. It just feels…right.
Jeanne Grunert is a certified Virginia Master Gardener and the author of several gardening books. Her garden articles, photographs, and interviews have been featured in The Herb Companion, Virginia Gardener, and Cultivate, the magazine of the National Farm Bureau. She is the founder of The Christian Herbalists group and a popular local lecturer on culinary herbs and herbs for health, raised bed gardening, and horticulture therapy.