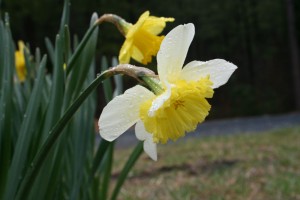 Daffodils blooming in the rain on Easter.
Happy Easter! I hope everyone had a joyful Passover or Easter. Last week was very busy for me. I've been hard at work writing articles on business, education, animal care and some advertising copy, and am really enjoying these new assignments of late.
Since it's still so cold and rainy outside, most of my gardening tasks have been relegated to indoor gardening, but this past weekend we did get some vegetable planting done. We planted potatoes on Saturday, and onions, too.  I helped my husband add lime to the front lawn area and plant grass seed, and our work removing the old mulch out front and replacing it with new mulch is done. The area looks beautiful, but the cats keep digging up the mulch to use for their litter box needs.  Groucho got into the act on Saturday when we were planting grass seed. We were scattering the seed and he kept jumping up to catch the seed, getting grass seed in his coat. I said to my husband, "Watch, he's going to go and dig in the flower beds now." Sure enough, he raced for the perennial garden in the lawn island and immediately began digging.  I think he was trying to help us sow seeds, but he just sowed grass seed into the flower bed. If I have extra weeds to pull, I'm blaming the Grouch!
Easter was quiet and restful.  I sang with the choir on Thursday evening, then went to evening services on Friday, and sang again with the choir at the Easter Vigil on Saturday. I had the great pleasure of meeting for the first time someone I had friended on Facebook, a lady introduced to me by a mutual friend. She brought her whole family to the vigil and it was fun meeting a friend-of-a-friend, someone with whom I have only corresponded with, and to share with her the joys of the Easter Vigil at St. Theresa.
I spent the afternoon yesterday working on my counted cross stitch bedspread project while watching the Monk marathon on TV.  That bedspread project is going to take me forever. It consists of intricate counted cross stitch squares. Each one is completed, then sewn together with fabric patches to make a quilt.  I saw the counted cross stitch blocks at Heartland Fabric and the ladies there had sewn them into a beautiful pink quilt. So I went and found blocks with butterflies and pansies on them.  I didn't realize, however, that each block would take me between 6 months to a year to complete because of all the different colors involved. The ladies at Heartland Fabrics used a single color of thread and I am sure that went a lot faster.  I'll continue with my project for the time being since it makes a good project while I watch television at night. But I am also planning to work on my first quilting project. I love the look of quilts, and hope to make a few simple ones to start with.
That's all the news that's fit to print around here. Hoping this week for some sunshine days and some good blooms on the fruit trees. One of the peach trees is blooming, but everything else is almost a full month behind.  Soon…spring can't be far away!
Jeanne Grunert is a certified Virginia Master Gardener and the author of several gardening books. Her garden articles, photographs, and interviews have been featured in The Herb Companion, Virginia Gardener, and Cultivate, the magazine of the National Farm Bureau. She is the founder of The Christian Herbalists group and a popular local lecturer on culinary herbs and herbs for health, raised bed gardening, and horticulture therapy.