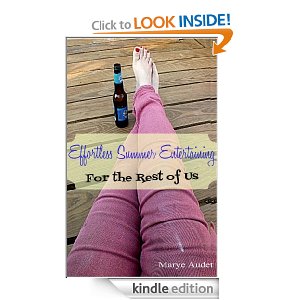 My friend and fellow writer, Marye Audet, has just published a new, inexpensive, and totally wonderful entertaining book on Kindle. Effortless Summer Entertaining incorporates recipes with tips, ideas and suggestions for creating themed summer events. From hosting a great barbecue to an ice cream social, Marye's recipe can be followed by the rest of us, or by people like me who fumble their way through my recipes and keep their fingers crossed everything will come out okay.
I've known Marye via the internet for several years now. She and I worked together at a digital publisher, sometimes with Marye as my editor, and sometimes I was Marye's editor. I have a deep and abiding respect for her as a writer and a chef. Her recipes are creative, innovative and yes – scrumptious.  Although she is knowledgeable about natural health and diet, and writes extensively about these topics, she's not amiss to sharing recipes for chocolate-bourbon-cheesecake and other delicacies.
And the Rollo cookies recipe from her first book, the cookie cookbook.Oh. My. I made these for Christmas two years ago and the look on my guests' faces when they bit into the peanut buttery outside shell of the cookie to encounter the chocolate and caramel bliss inside. I had to make two batches just to keep them stocked for Christmas!
Marye's cooking blog and website, Restless Chipotle, is also worth checking out.
Effortless Summer Entertaining includes thematic ideas and recipes.  Whether you want to host a few friends over on a hot summer afternoon or throw a big barbecue bash for a family graduation, this book will help you channel domestic goddess on a servant's budget.
Effortless Summer Entertaining is available as a Kindle book for $2.99 via Amazon.  Buy it here.
Note: I downloaded a free copy of the book on its launch date. I'm friends with Marye, and asked her permission to share the cover image. She did not pay me to write this and honors my need and request to write a truthful review.  Truthfully? Loved this book and will refer to it often this summer.
Jeanne Grunert is a certified Virginia Master Gardener and the author of several gardening books. Her garden articles, photographs, and interviews have been featured in The Herb Companion, Virginia Gardener, and Cultivate, the magazine of the National Farm Bureau. She is the founder of The Christian Herbalists group and a popular local lecturer on culinary herbs and herbs for health, raised bed gardening, and horticulture therapy.