Somehow Wednesday got away from me. I had my nose to the grindstone, busy updating my company website, and forgot to post "wordless Wednesday."  As luck would have it, today yielded more interesting photos. Sometimes the universe does seem to have a plan. Here, in photos, in and around Seven Oaks today….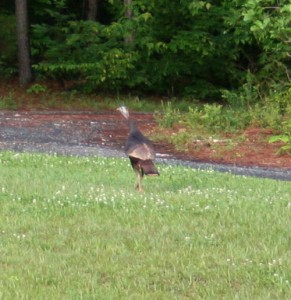 Early morning visitors in the driveway: female wild turkey.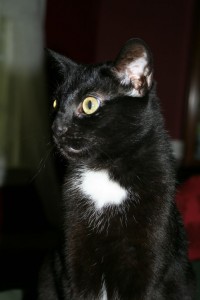 Genghis Khan, one of the indoor cats, was v-e-r-y interested in the turkey….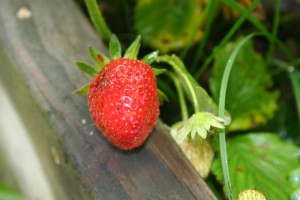 I harvested the first strawberry this morning! All of the rains have made them larger this year.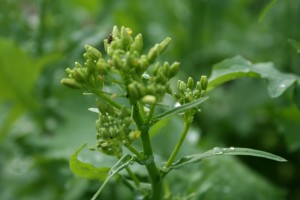 Broccoli rabe floret.  I'll be sharing a recipe on Friday for cooking with rapini (broccoli rabe) or any bitter green.
Peaches are ripening rapidly.  We had some fruit drop, but not much. In a few short weeks, if the June bugs, squirrels and deer don't get them, I'll be picking fresh peaches from the orchard trees.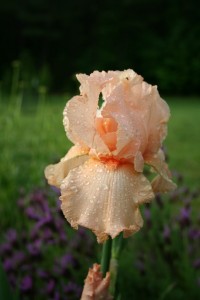 The last of the iris collection bloomed today. This is a peach iris I bought in Lynchburg several years ago.  The purple plants behind it are lavender, which are also blooming profusely now at Seven Oaks.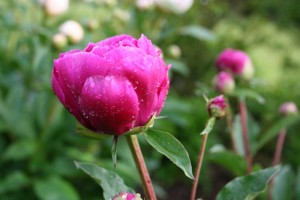 Peony, Dr Alexander Fleming variety….just beautiful!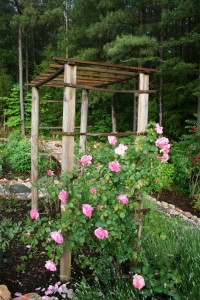 The rose arbor hubby built for me last year, covered in rose "Dream Weaver" today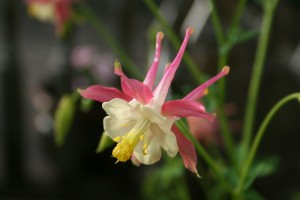 The last columbine (Aquilegia) blooming today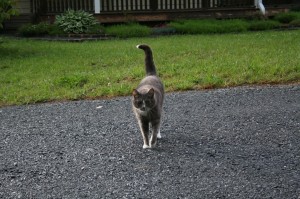 And since we have not had a Pierre update in a while, here is His Royal Highness in the driveway this morning. I'm pleased to report his diet worked and he has lost two whole pounds! Now if only his mommy were doing that well on her diet….
Jeanne Grunert is a certified Virginia Master Gardener and the author of several gardening books. Her garden articles, photographs, and interviews have been featured in The Herb Companion, Virginia Gardener, and Cultivate, the magazine of the National Farm Bureau. She is the founder of The Christian Herbalists group and a popular local lecturer on culinary herbs and herbs for health, raised bed gardening, and horticulture therapy.