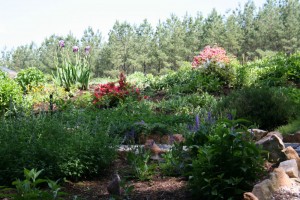 Looking up at the flower garden from my new bench.
Thought you might enjoy this view from my new garden bench. We bought it last Thursday evening at B & M Greenhouses in Farmville, Virginia. It's a stone bench cast to look like natural wood, and it's surprisingly comfortable. It's actually more comfortable than the wood and metal park bench we bought several years ago that didn't hold up very well to the elements. We moved that bench onto our front porch, and it gives a nice view of the orchard.
But this bench is special. It's in a little green nook we created in the flower garden. We made a sort of keyhole shaped area where the two paths converge in the shady back corner. It's a spot that was a deer pathway, and you can still see the deer path behind the bench. We edged it with natural stones, the same as used along the pathway (you can see them in the photo above.).  Slates, white river rock, and a decorative slate with a dragon fly motif complete the scene.
The new garden bench.
The new garden bench invites contemplation. It invites a rest in the shade after the weeding has been done for the day. It invites a cool drink and a long look at the sky.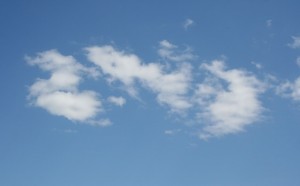 Another view from the garden bench.
I don't sit still much. There's too much to do. There always seems to be 20 chores for every one chore I complete. This upcoming week, we will host the Heart of Virginia Master Gardeners meeting. I have something like 25 Master Gardeners coming for a walk through the gardens and some fellowship and fun.  I'm looking forward to sharing my little gem, my garden, and its story with them.
But when I get too busy weeding, mulching, transplanting, seeding, I forget to stop and take in views like this, which was the scene yesterday: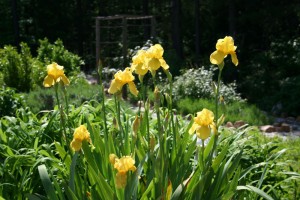 Bed of yellow iris with the rose garden in the background
Or this….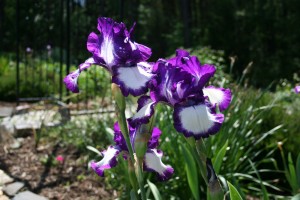 Or this….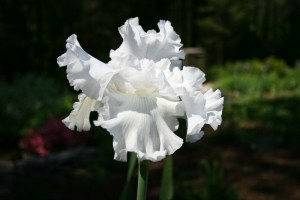 We could all take a cue from the cats. When they step into the garden, it's as if they are stepping into their own personal playground, an amusement park. Okay, so their amusements include catching and shredding butterflies (not something I want!) and stalking prey. But they also know when to just chill out and take in the scenery, as Pierre demonstrates, below.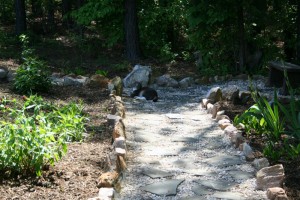 Pierre has the right idea….
My gardening goal for this year is simple: to enjoy my garden more. To stop fussing with it every time I step out with the intention of enjoying its beauty. To sit and be still, and look at the sky. To stop and smell the roses. Or iris. Or whatever is blooming.
May is indeed the loveliest month. It's time to stop and enjoy the garden!
Jeanne Grunert is a certified Virginia Master Gardener and the author of several gardening books. Her garden articles, photographs, and interviews have been featured in The Herb Companion, Virginia Gardener, and Cultivate, the magazine of the National Farm Bureau. She is the founder of The Christian Herbalists group and a popular local lecturer on culinary herbs and herbs for health, raised bed gardening, and horticulture therapy.