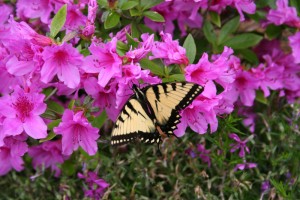 A few weeks ago, I had the great pleasure of presenting my talk on butterfly gardening at the library for a local garden club. This is a picture of me (the Rubenesque beauty in the pink shirt) with Cynthia, the club member and fellow Master Gardener who invited. The photo is used with permission of Sandy Heinemann.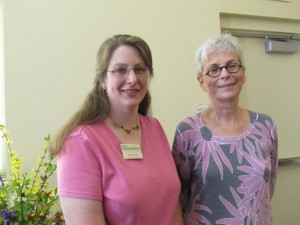 I actually enjoy public speaking, and sharing photos of my butterfly garden with the club members was fun. But one thing I realized: I don't know anything about the butterflies visiting my garden.
So I did a little research, and found out something very interesting.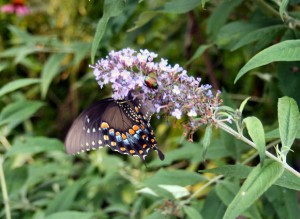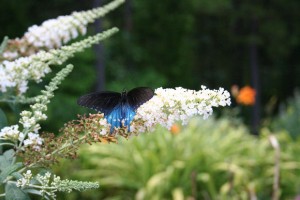 Most of the butterflies I've photographed over the years here at Seven Oaks are Eastern Tiger Swallowtail butterflies – Virginia's state insect!
And here I thought I was looking at several different species of butterflies, but I was wrong. According to the article I linked to above, females actually come in a dark or light colored motif. I seem to have both in the garden.
Apparently, they love deciduous woodlands and parks, and are common spring through fall. Caterpillars have false "eyes" to fool predators into leaving them alone, and if that doesn't deter them, they can release a foul smelling substance to get rid of whatever is bothering them.
So there you have it, folks. My next butterfly gardening presentation will be next March for another garden club, but if you're curious, I've shared my presentation online. All of these pictures are from my garden and pictures that I took – the pictures in my presentation and here on the blog.
Jeanne Grunert is a certified Virginia Master Gardener and the author of several gardening books. Her garden articles, photographs, and interviews have been featured in The Herb Companion, Virginia Gardener, and Cultivate, the magazine of the National Farm Bureau. She is the founder of The Christian Herbalists group and a popular local lecturer on culinary herbs and herbs for health, raised bed gardening, and horticulture therapy.