Today we'll visit the rose beds here at Seven Oaks. It's a good time to see them, because in a few short weeks, when the Japanese beetles emerge, the roses won't look the same.
We have three climbing roses: "Dream Weaver" and two red "Blaze" climbing roses
We have one hybrid tea: Sonia
One floribunda rose, The Fairy, which produces abundant tiny pink flowers
Three miniature roses add whimsy – one yellow one, which I received for my birthday this year and am nursing back to health since its stint as a houseplant didn't agree with it, and two red mini roses I bought at a Valentine's day clearance sale many years ago.
How I Grow Roses in Virginia
The roses are grown in full sun, with plenty of mulch. I do use a general 10-10-10 granular fertilizer once or twice a year. I spray with a Neem oil rose spray, and organic spray that helps keep black spot and bugs at bay.  The roses must fend for themselves when it comes to water; the only water they receive is rainwater. Surrounding the rose bed is a border of thick lavender, grown from seeds I started long ago, which adds to the perfume in the hot summer sunlight. And growing under the rose arbor are marigolds, both for their hardiness and their ability to help keep insects at bay.
Pour a glass of iced tea and stroll the rose garden with me…
Rose Flower Pictures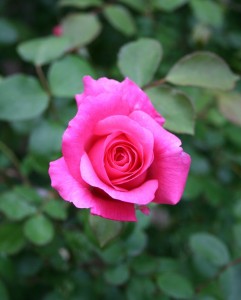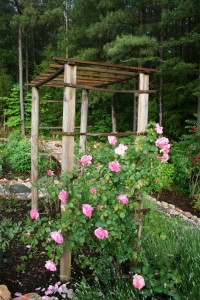 Dream Weaver climbing rose – closeup, above, and the arborn, below. You can see the lavender border.
T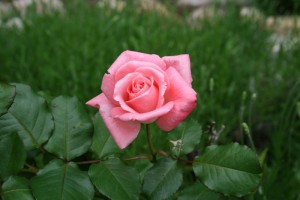 "Sonia" is a hybrid tea with a lovely fragrance.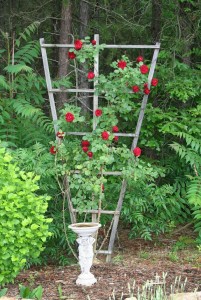 Blaze climbing roses in bloom on the trellis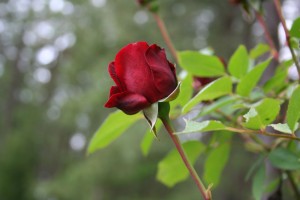 Closeup of Blaze rose
Jeanne Grunert is a certified Virginia Master Gardener and the author of several gardening books. Her garden articles, photographs, and interviews have been featured in The Herb Companion, Virginia Gardener, and Cultivate, the magazine of the National Farm Bureau. She is the founder of The Christian Herbalists group and a popular local lecturer on culinary herbs and herbs for health, raised bed gardening, and horticulture therapy.