As the first day of summer dawned, I realized that my garden has officially entered its "hot" color phase. Although I do have light sprinkling of pink and purple flowers blooming now, the dominant color palette is red, orange and yellow.
Spring is pink in the garden, followed by early summer colors. By late summer, purple and hot pink regain prominent, only to fade back to the russets and oranges in the fall.
What's really funny to me is that I didn't plan it this way. I think that a lot of garden design is actually intuitive. We choose plants that appeals to us, and as we do, a pattern or theme emerges. I love mid spring, and my garden is at its peak then. But I also love the lingering dark green cool evenings of August, that time when the garden is ripe from summer's lushness but not yet faded into autumn splendor. And so the plants I've chosen for the garden tend to fall into both of those themes, mid spring and late summer, with brief periods of transition in between.
Enjoy pictures of the garden on this, the longest evening of the year….which I will spend weeding!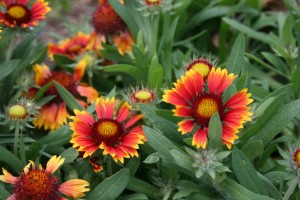 Gaillardia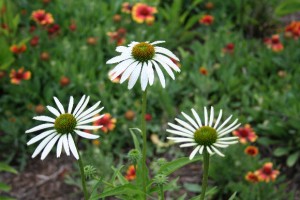 I planted coneflower "White Swan" in front of the Gaillardia….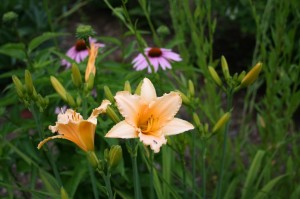 Peach colored daylilies and classic purple coneflower.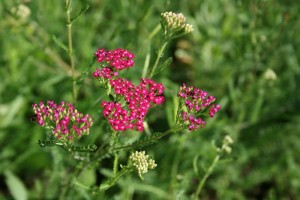 Achillea "Fire King" is more dark pink than red, but still a 'hot' color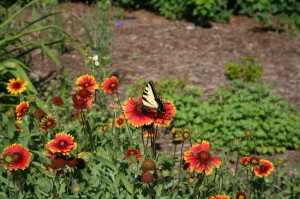 Butterflies visit the Gaillardia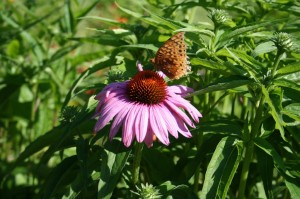 ….and the coneflower….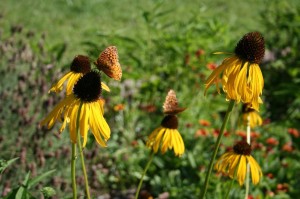 More butterflies on yellow coneflower in my garden
Jeanne Grunert is a certified Virginia Master Gardener and the author of several gardening books. Her garden articles, photographs, and interviews have been featured in The Herb Companion, Virginia Gardener, and Cultivate, the magazine of the National Farm Bureau. She is the founder of The Christian Herbalists group and a popular local lecturer on culinary herbs and herbs for health, raised bed gardening, and horticulture therapy.