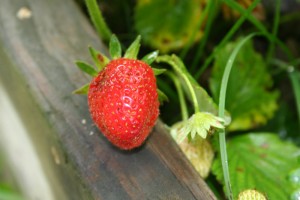 There's nothing – and I mean nothing – as delicious as a fresh, organic strawberry picked straight from the plant and popped into your mouth. They're sweeter than candy, and juicy, and just perfect. I'm picking a quart of berries per day now with no signs of stopping. We have a quart already in the refrigerator of store-bought berries and although they are of a more uniform size and shape, the taste doesn't compare.
Strawberries are perhaps the easiest fruit to grow in the garden. I've written a few articles about growing strawberries, including this one about how to grow strawberries in containers. A few people have asked me about growing blueberries, and to be honest, I haven't had any success at all with blueberries. Strawberries, on the other hand, grow well for me here in Virginia. They also grew well for me on Long Island, so if you'd like to try your hand at growing your own fruit, I recommend strawberries over any others. They're easier, don't have thorns like blackberries and other cane fruits, and kids tend to love them – including this big kid!
Everything is growing well in the vegetable garden except for the cucumbers. I'm not sure if the frost got the seedlings or what, but I have lost two already. The other two seem to be regaining strength and vigor thanks to the rain and heat this past week. The eggplant, tomato, and potato plants are being eaten alive by Colorado potato bugs.  Right now I am seeing most larvae, especially on the tomato plants. I've tried picking them off by hand but I can't seem to keep up with them. I need to research organic controls for them, or I'm going to lose even more vegetables. Nasty, nasty bugs.
The sweet potatoes were really damaged by the frost early in May and thew few cool evenings we had.  I left them alone, even though they looked dead, and I'm glad I did. The roots were still vigorous and now they are finally showing some green leaves. With a little more water and heat, we should have decent plants and potatoes this year.
The onions, beets, and garlic are doing well. Nothing seems to trouble them and I am already thinking ahead to canning the beets. I love the pickled beet recipe in the Ball cookbook, and the beets are so tasty.  You can heat them up and with just a few ingredients, transform the canned beets into Harvard beets.  Or if you prefer, you can drain the liquid off, slice an onion up, and mix with vinegar and olive oil for a quick salad. They're versatile and delicious!
The green beans are coming up now, too. I love to go out into the garden in the morning and look at the bean patch. There may be a few beans peeking up from the soil – maybe six to a dozen. Then, when I return in the evening, the bean plants peeking up in the morning hours are fully emerged, and there's another dozen or so starting to break through the thin crust of the soil. Sometimes I wish I had a time lapse camera and could make a video of them – they look like alien plants as they emerge and grow.
I haven't been able to take new garden photos in the flower garden. The cicadas are so prevalent, they photo bomb every picture. I can't take a good flower photos without one of those orange-eyed freaks smiling for the camera. Thankfully, it's a once every 17 year phenomenon. At least the dog and the cats are enjoying chasing cicadas…it's like built in entertainment for them!
Jeanne Grunert is a certified Virginia Master Gardener and the author of several gardening books. Her garden articles, photographs, and interviews have been featured in The Herb Companion, Virginia Gardener, and Cultivate, the magazine of the National Farm Bureau. She is the founder of The Christian Herbalists group and a popular local lecturer on culinary herbs and herbs for health, raised bed gardening, and horticulture therapy.