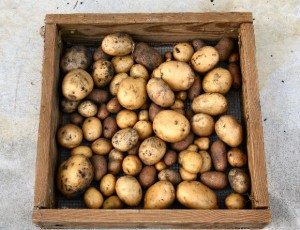 …and I've still got to get them canned this week!
But on the bright side, all of the beets are canned.
I look back at my life here in Virginia and can hardly believe how much I've changed since moving here. Yesterday as I worked in the kitchen, scraping the messy purple skins off the beets, one of them shot out of my hand with a cartoonish "squeeeee" noise, then bounced like a superball across my kitchen floor, ricocheting off of counters and my clean floor. When it rolled to a stop, I had purple splatters everywhere and I couldn't stop laughing. I was laughing so hard that hubby called in from the living room to make sure I was all right; I think he thought I'd cut my hand and was slowly sinking to the floor in a shock-induced heap. Instead, I was doubled over at the counter, laughing so hard tears were running down my face, all because the little golf ball sized beet made a funny noise as it squirted out of my hand and tore around the kitchen like a pinball.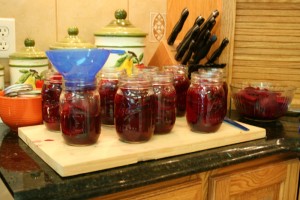 There were days many years ago when I'd have gone off like a rocket, angry and stomping around because of the mess left in my kitchen. Now, I just laugh.
Part of that change has to do with reduced stress, or at least changed stress. We went into Charlottesville on Friday night for dinner and to pick up family at the train station and the noise and crowds almost put me into meltdown mode. Compare Charlottesville to midtown Manhattan during, say, rush hour, and there's no comparison – as a veteran New Yorker, quickly to dodge cabs and honking cars when dashing to catch my train at Penn, Charlottesville should have been a breeze. But I'm so used to peace and quiet now that the noise of street performers, crowds of people strolling the main drag and stopping at restaurants, and the traffic on Charlottesville's narrow streets had me on the verge of a headachey meltdown of epic proportions. I was never so glad to escape back into the green peacefulness of the countryside as I was on Friday night when we finally drove back to Prince Edward county.
I looked up from the hot stove yesterday where nine pints of pickled beets burbled merrily in the ancient canning pot and said aloud, "I love canning."  I really enjoy it. I love the whole process, even though beets are the most time and labor intense.  I'm actually looking forward to canning green beans and potatoes this week.
I love the garden, and the feel of planting seeds and watching them grow. I love taking my harvest basket outside, slung over my arm as I rummage around the bean and tomato and cucumber plants seeking the latest offering from the garden. I love watching butterflies dance on the breeze as they dart among the flowers in the perennial garden, and I love that my work breaks now revolve around a few peaceful minutes on my front porch playing with the cats rather than a dash down the stairs, out the door onto 7th Avenue, and a dash to Starbucks for a super-priced, super caffeinated beverage.
There are times when I miss Manhattan, and times when I lose my temper as I did years ago. But with the stress about half of what I used to know, and new delights around every corner, rural Virginia is where it's at for me.
My husband and nephew harvested 50 pounds of potatoes this weekends — organic russets and Yukon golds, plus 20 pounds of beets, and onions drying in the garage today.  If, sitting at my desk in Manhattan 10 years ago in 2003 you would have told me that a decade later I'd be looking forward to canning potatoes, I would have thought you were crazy.  But here I am, and the potatoes are waiting.
Jeanne Grunert is a certified Virginia Master Gardener and the author of several gardening books. Her garden articles, photographs, and interviews have been featured in The Herb Companion, Virginia Gardener, and Cultivate, the magazine of the National Farm Bureau. She is the founder of The Christian Herbalists group and a popular local lecturer on culinary herbs and herbs for health, raised bed gardening, and horticulture therapy.