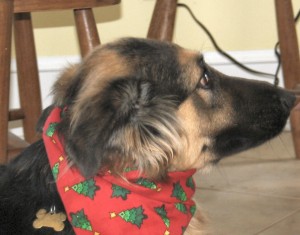 I sewed a Christmas bandana for Shadow once….
As fall turns into winter, I start thinking about the craft projects I have lined up for the cold, snowy months when there's not much to do in the garden. Oh sure, I have my house plants: orchids, African violets, Christmas cactus, and a few low-light house plants. But there's only so many African violets I can fit into my plant room, and I've tried keeping plants in other rooms. They don't seem to do well, maybe because I forget to water them, or the light isn't right, or whatever. So I keep my house plants contained in one room, much to my spouse's relief. And I dream  up other projects.
I have several projects either underway now or ready to start….
Painting one of my artist resin horse models: Some of you know that I collect horse models and run a company called EquinArt Creations that sells resin and china models to hobbyists. I have a whole shelf of unpainted resins that I bought for myself intending to send out to paint "someday."  Well, I decided to try my hand at painting one of my own resins. I have a Gypsy II master ready to prep and paint. I know that prepping is the most important part of painting her, so I have sandpaper and automotive primer on my list for weekend shopping. That project may only be of interest to a handful of my readers, so I'll be sharing details on my Model Horse Fun blog.
A mystery project involving mosaics, painting and more: It's a mystery project because if it comes out nice, it will be Christmas presents for a few people. They read my blog. Who wants to spoil a Christmas present? Not me! But I'll share details AFTER Christmas….
Counted cross stitch samplers: I love counted cross stitch! I've been stitching since college, when I needed something to occupy my hands while I watched TV at night. Stitching keeps me from snacking.  I've made the four seasons in flowers, many Christmas ornaments, two pillows, and a sampler that hangs in my bedroom. I love samplers and decided to create a bunch of them for the house.  The first sampler is one that my husband rescued from someone's garbage late at night when he walked the dog.  We used to live on the edge of a very wealthy neighborhood on Long Island, and he would walk the dog late at night and come home with all sorts of treasures for me. The sampler was one of those treasures. I could tell it was an expensive linen stamped cross stitch, but it was missing the color key and instructions. I made it up on my own using thread I had on hand and I think it came out just fine.  The new one that I am about 2/3 of the way through with now I purchased on eBay. Someone had started it but had only completed a few boxes. It was missing one color of thread, but I have such a quantity of thread on hand that I found a substitute. Once that one is done, my hubby will build another frame for it to match the one I have now, and we can hang it up in the bedroom, too.  I have my eye on another online. Would it surprise you to know it involves…cats?
Sewing! I bought my third-ever sewing pattern today online from McCalls. My sum total of sewing experience: two classes in sewing at the local high school.  Playing around with the machine my hubby bought me two years ago for Christmas. I want to quilt and sew, but I don't really know how. I just finished reading the Singer Sewing Guide to Sewing, and made a few simple hanging sachets out of scrap fabric. I sewed a quilted pillow last year; it's lumpy, but serviceable. Now on to the pattern. My first sewing project, undertaken while I was single and attending an adult evening course in sewing, was a disaster. I don't know why. I did everything the teacher said: bought as simple beginner's pattern, chose the right fabric. The sizing was totally wrong and the seams were awful. I threw it out. Now this pattern promises to be a "quick sew" beginner "it's so easy anyone can do it/learn to sew" pattern.  Why bother? I'm just fascinated by the whole process. My mom was an excellent seamstress, and both my older sisters sew wonderfully. One of my sisters won a prize for a child's dress she sewed. My eldest sister sewed a gorgeous wool business suit for me, jacket and skirt, that I love and won't part with even though it no longer fits me.  It's so well tailored that I want to lose weight just to fit into it again. I don't know if I am going to be any good at sewing, but I won't know until I try again, right? So this is my second sewing attempt. But my third pattern. What was the second? I bought a pattern for an Edwardian style apron. Haven't sewed it yet, but I have the pattern. One of my ultimate goals is to sew a few historical patterns like that…I would LOVE to create 1930s and 1940s inspired garments. Well, one step at a time. A simple A-line skirt with a baby beginner pattern is a good first start!
That's the line up of winter craft projects I have on hand.  I will try to share my successes and failures as they occur….except for the mystery project. You'll have to wait until after Christmas for that one!
What do you do when you can't garden? What are your crafts and hobbies? Share here!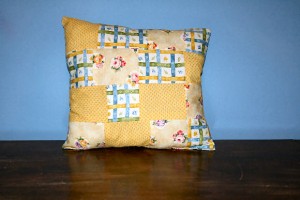 A little lumpy and misshapen, but my first quilting project.
Jeanne Grunert is a certified Virginia Master Gardener and the author of several gardening books. Her garden articles, photographs, and interviews have been featured in The Herb Companion, Virginia Gardener, and Cultivate, the magazine of the National Farm Bureau. She is the founder of The Christian Herbalists group and a popular local lecturer on culinary herbs and herbs for health, raised bed gardening, and horticulture therapy.