The cold front coming our way means that frost is imminent. We did have frost on Sunday evening, but the temperatures will really drop after today, and that means cold, frost, and many annual and vegetable plants dying.  Today is the day to harvest the last of the tender vegetables: tomatoes, peppers, basil, other herbs. And the weekend after the frost will by the time to harvest and celebrate vegetables that sweeten in the frost, especially the parsnips I've been eyeing all summer. I have a new recipe for orange glazed parsnips and carrots from TV chef Ina Garten that I'm dying to try. I think Sunday is the day!
Some photos I've taken over the years of frost in the garden for Wordless Wednesday….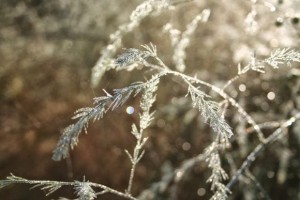 Frost on asparagus, October 2013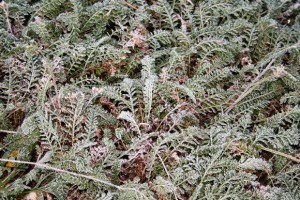 Yarrow with frost, November 2010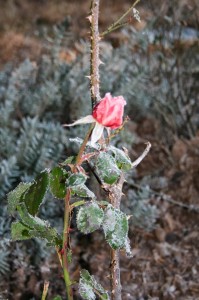 Ice-covered rose. November, 2011
Jeanne Grunert is a certified Virginia Master Gardener and the author of several gardening books. Her garden articles, photographs, and interviews have been featured in The Herb Companion, Virginia Gardener, and Cultivate, the magazine of the National Farm Bureau. She is the founder of The Christian Herbalists group and a popular local lecturer on culinary herbs and herbs for health, raised bed gardening, and horticulture therapy.