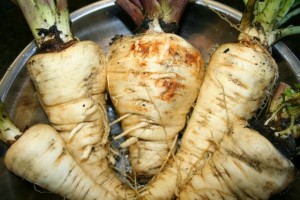 Parsnips from my garden.
Aren't they beautiful? Knobbly, stringy, rough-hewn and sharply fragrant with the spice of fall, parsnips are one of my favorite autumn vegetables.  They're new to me; in New York, I think I made them once. They were expensive to purchase at the grocery store.
After moving to Virginia, I saw parsnip seeds in every garden center and big box store. I decided to grow them. Once I read the seed instructions, I understood why they are so expensive. They need to remain undisturbed in the ground for a long time, and that means you can only get one crop per year!  But for me, as a home gardener, that doesn't matter as much as for the commercial growers who produce parsnips for the grocery store.
I loved the taste of them. My father in law, who lived with us then, thought they were okay. Alas, my spouse dislikes them almost as much as he dislikes broccoli. That's okay. I'll grow a few for myself, which is precisely what I did this year.
Above are the results from this year's crop. The middle one is HUGE – the size of a small football. It must weight well over a pound.  And that's not all. I have at least five times that many still in the garden bed.
The trick with growing parsnips is to let them sweeten after the first frost.  You can leave them in the ground through several frosts. The leaves wilt a bit, but the edible root is fine.
I made baked parsnips, carrots and onions. Here is the recipe. I hope you enjoy it!
Parsnips, Carrots and Onions: Fall Root Vegetable Recipe
Makes four small servings.
You'll need…
One large parsnip
Two carrots
1 small onion
1/2 cup orange juice
1/4 cup olive oil
1/8 teaspoon thyme
Dash of salt and pepper
Preheat the oven to 350 degrees F. Wash, peel and remove ends from the parsnips and carrots. Slice into coins and arrange in an oven-proof dish with a lid. Add 1/4 cup of orange juice. Microwave on high, covered, for two minutes, then remove from the microwave.  Add the remaining orange juice, the olive oil, the thyme and a dash of salt and pepper.  Slice the small onion very thinly and place that into the bowl too; mix well.  Place the lid and bake for 45 to 60 minutes or until the vegetables are done.
If it's too bitter or sharp to the taste, add a pinch of honey to the orange juice.
Enjoy!
Jeanne Grunert is a certified Virginia Master Gardener and the author of several gardening books. Her garden articles, photographs, and interviews have been featured in The Herb Companion, Virginia Gardener, and Cultivate, the magazine of the National Farm Bureau. She is the founder of The Christian Herbalists group and a popular local lecturer on culinary herbs and herbs for health, raised bed gardening, and horticulture therapy.