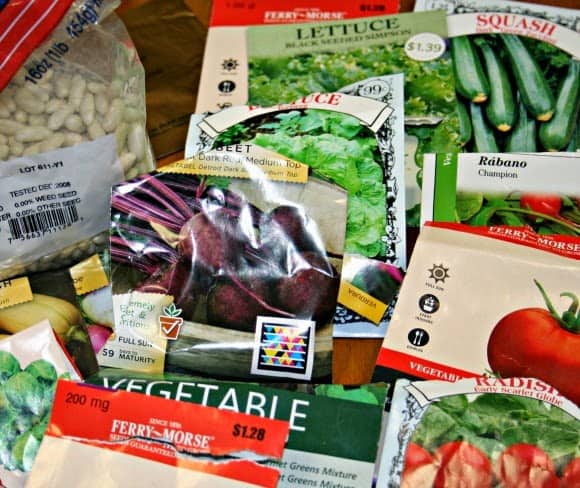 I tried to buy more seeds at Lowe's and Wal-Mart yesterday, but the selection is terrible locally! I'm saddened by this but I do understand it from the retailer's perspective. Seeds are a pain to manage (having worked at a garden center for many years, I can say this with assurance.) You get one kid rampaging through the seed rack and it's an hour of work to replace everything in the right slot. Then there's the shoplifting and all the other nonsense. But…for those like me…who love to start veggies from seeds, it means I am now paying triple for my seeds and I'm NOT happy about it!

However….
Burpee managed to take some of the sting out of ordering seeds by mail by offering a 20% coupon on their website this weekend! It is good until Monday, February 24, 2014.  The coupon code is on their website. Warning though – everyone in creation must be ordering from them this weekend, because the site was super slow. Have coffee and a book ready to wait for the site to catch up with you.
This year, I am trying some new and exciting vegetables. I've never grown leeks or celeriac, but I am reading "French Women Don't Get Fat" and the author recommends both. My goal this year is more diversity and variety in the vegetable garden, less of huge amounts of one type of veggie coming in at once.  So I will try my hand at both this year. I've also ordered my tomato seeds and of course, broccoli rabe!
I do have seeds purchased from Wal-Mart for beets and others, but I forgot the parsnips. Ah! I may need to make a special trip to B & M Greenhouses to see their seed selection. If anyone has a seed selection a gardener can love, it will be my favorite local greenhouse.
Until next week then…don't forget to buy your Burpee products this weekend and take advantage of their coupon! 
Jeanne Grunert is a certified Virginia Master Gardener and the author of several gardening books. Her garden articles, photographs, and interviews have been featured in The Herb Companion, Virginia Gardener, and Cultivate, the magazine of the National Farm Bureau. She is the founder of The Christian Herbalists group and a popular local lecturer on culinary herbs and herbs for health, raised bed gardening, and horticulture therapy.