On Sunday, I photographed a local garden for Virginia Gardener magazine. Since I had my camera with me, I decided to go on a little excursion, drive the back roads, and take some scenic photos. I'm calling this online exhibit "Postcards from Prospect."  Prospect, Virginia. It's a far cry from Manhattan….but it's my adopted home.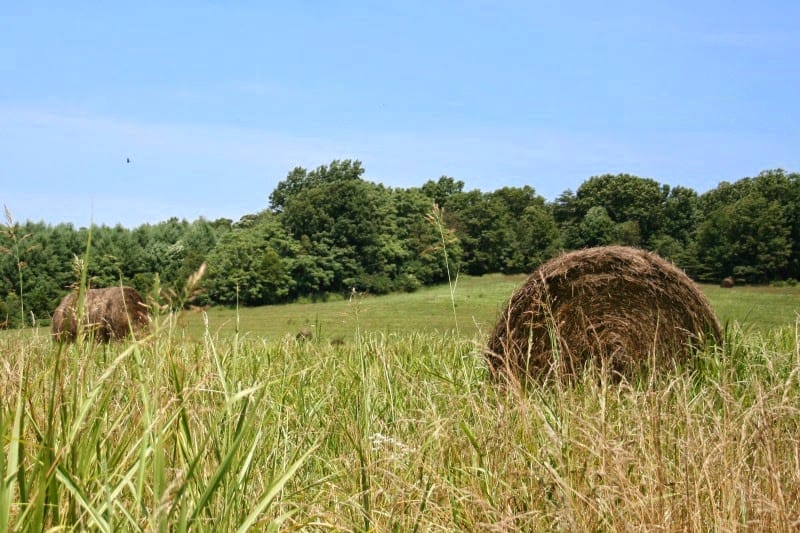 Hay bales drying in a field, Featherfin Road, Prospect, Virginia
One of the most beautiful sights in late June and again in the fall are hay bales drying in the sun. You see them everywhere around here – acres and acres of pasture, beautiful rolled hay bales like the ones above. You almost never see round bales in the movies; you always see square bales. Round bales like the ones above a huge. They are used in cattle feeders and many of the farms around here raise beef cattle. I have seen hundreds of them, in perfect, evenly spaced rows gleaming golden in the green fields as I drive the roads around here. This is home.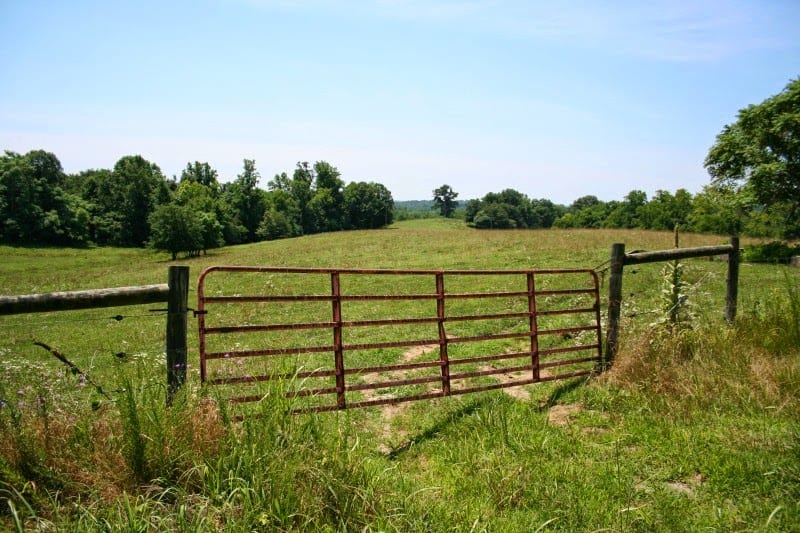 Cattle gate and pasture
Along the back roads, the road will swoop up and down like a roller coaster, winding among pine forests and fields. Suddenly, you turn a corner and are greeted with breathtaking sights – green pastures tumbling down into a valley, mountains rising in the distance, dark firs and loblolly pines against lighter green pastures. This is home.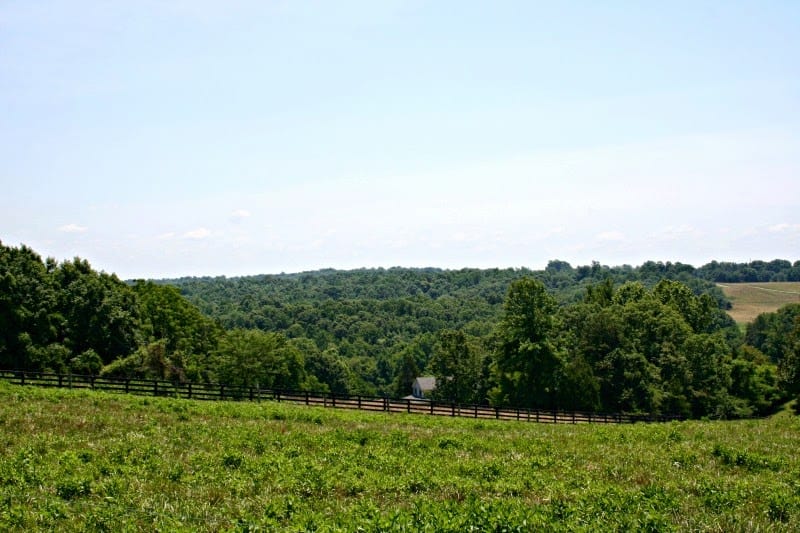 Beautiful fence and field, Prospect, Virginia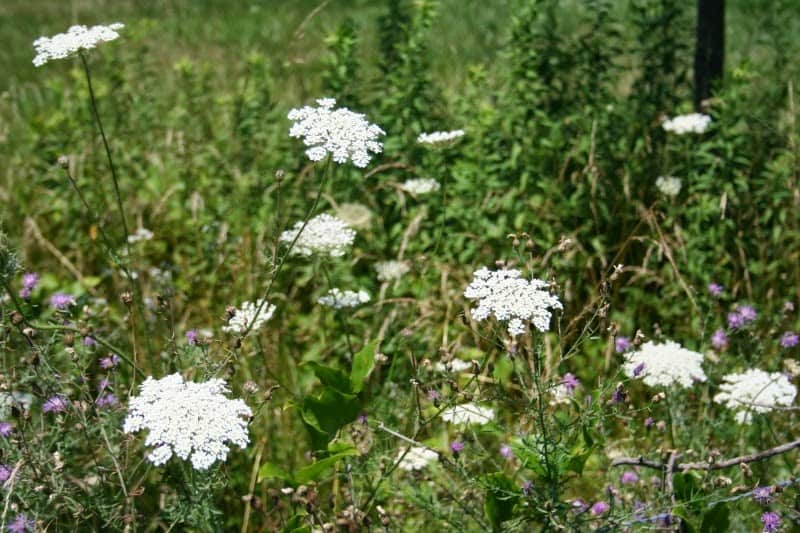 Wild flowers – Queen Anne's lace, others
This is the time of year when the wildflowers are in bloom alongside the roadways. There's white Queen Anne's lace, purple thistle, milk weed, butterfly weeds, black-eyed Susan and more. Day lilies, escaped from someone's field or perhaps merely wild, grow in the ditches. Fields blaze with color and buzz with life. This is home.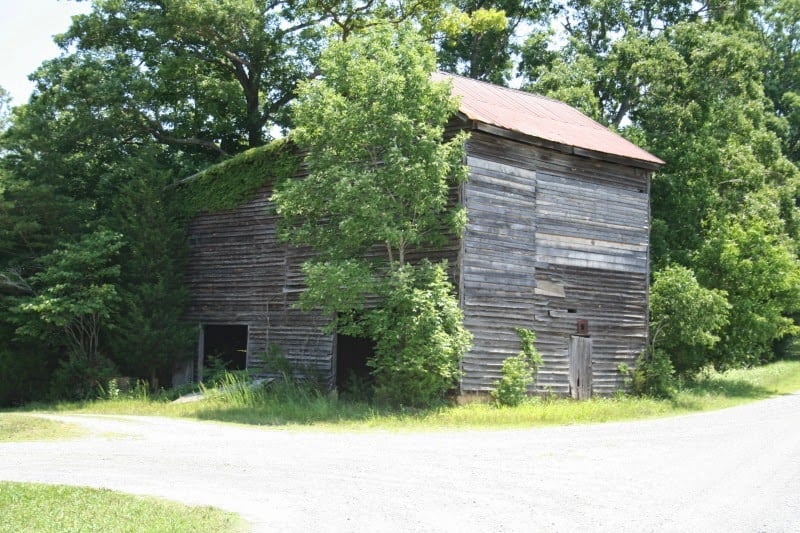 Old barn on Featherfin Road, Prospect, Virginia
Old barns are everywhere around here! Most were tobacco barns, or so I am told. Along Featherfin Road, there were many of these barns. They all have a circular opening in a metal plate above the side door. Flue? Chimney? I counted three barns like this. I'm not sure what they were for, but tobacco is my guess since that was such a big industry around here until recent times.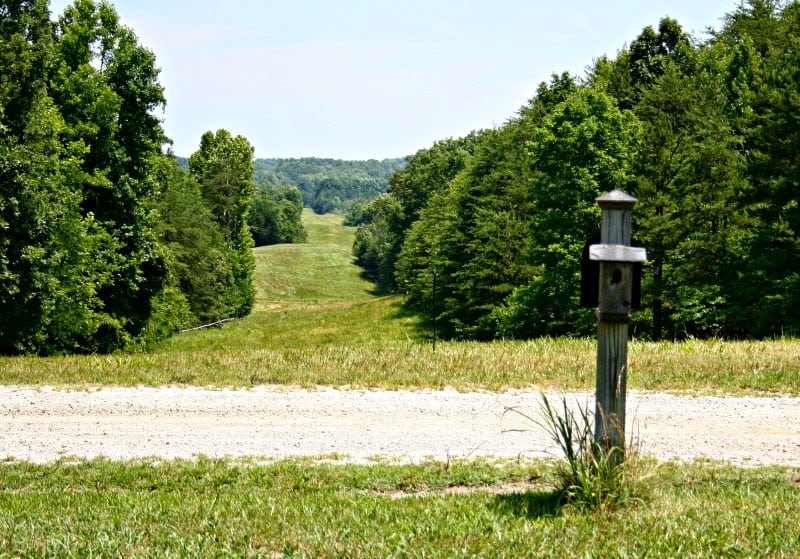 Mail box and bird house in one!
People are kind to nature here. We live so close to nature that it's natural to make it part of your own family. Here, someone mounted a bluebird house on the post…and on the other side is the mail box. I wonder what the bluebirds think of the once daily sound from the other side of their house as mail is delivered!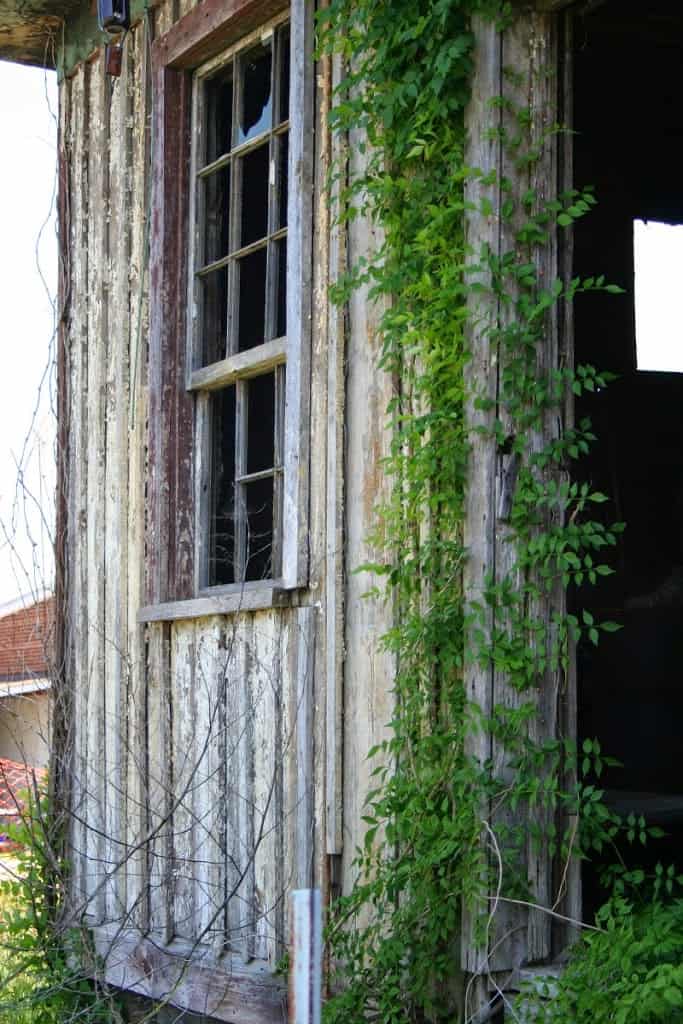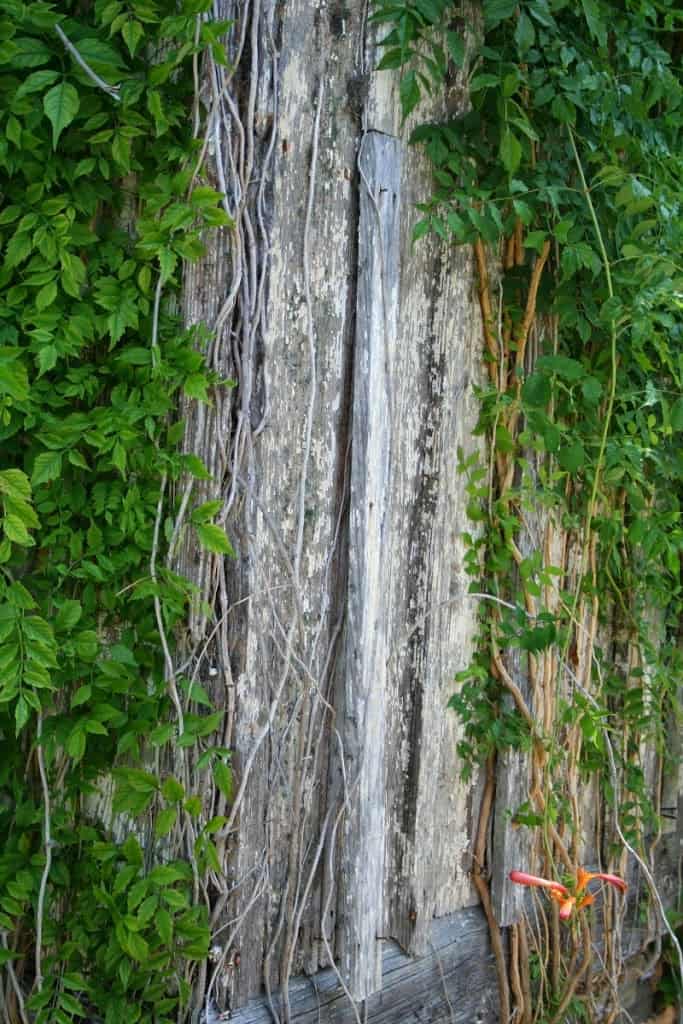 I took these two photos for the texture and lines of the composition – the old train station in Prospect. It's a wreck now, but not through the actions of time alone. Although Norfolk & Southern railways decommissioned the line in the 1990s, the train station was being restored when it caught fire and burned to what you see today. There's still talk of restoring it and using it as a meeting place, but frankly I think it's a waste of money. There's nothing left but the stone foundation, rotted timbers and bits of tin from the old roof.
You can, however, still see the separate doors from the time of segregation, when the passenger waiting rooms were segregated.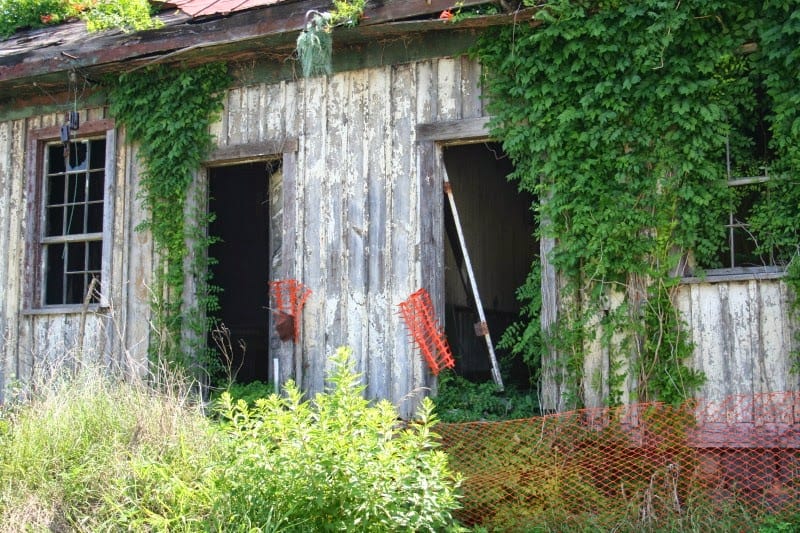 Old train station, Prospect, Virginia.
What is there to do in Prospect, Virginia you ask? Absolutely nothing except live – live the life that God intended you to live. Find freedom. Grow your own food. Grow a life instead of merely make a living.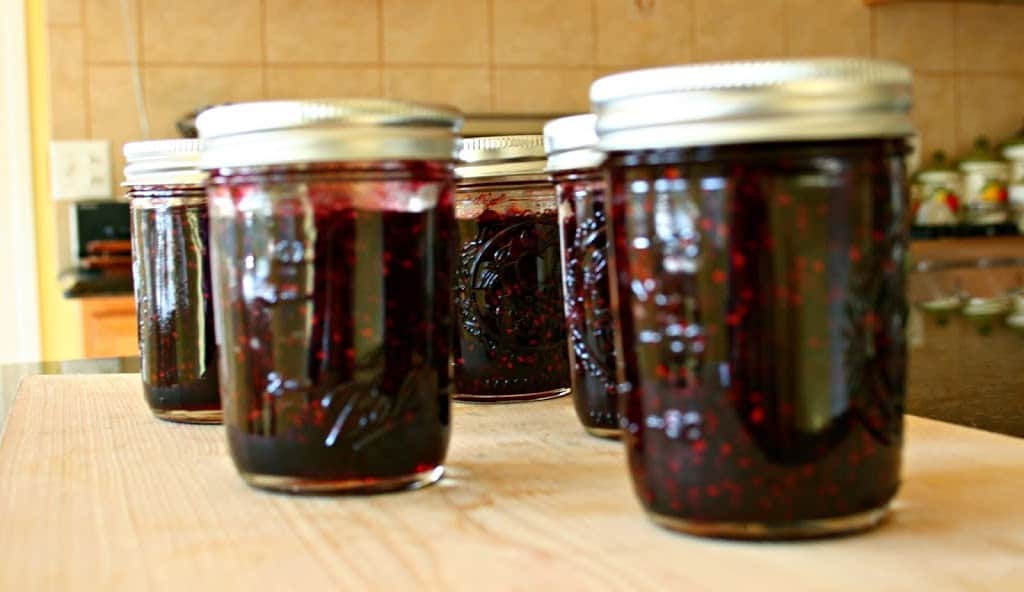 All photos on this page taken by Jeanne Grunert and © 2014 by Jeanne Grunert. 
Jeanne Grunert is a certified Virginia Master Gardener and the author of several gardening books. Her garden articles, photographs, and interviews have been featured in The Herb Companion, Virginia Gardener, and Cultivate, the magazine of the National Farm Bureau. She is the founder of The Christian Herbalists group and a popular local lecturer on culinary herbs and herbs for health, raised bed gardening, and horticulture therapy.