Did you grow catnip this year? Dry catnip and use it to make this adorable catnip mouse. Genghis Khan kitty approves of this toy.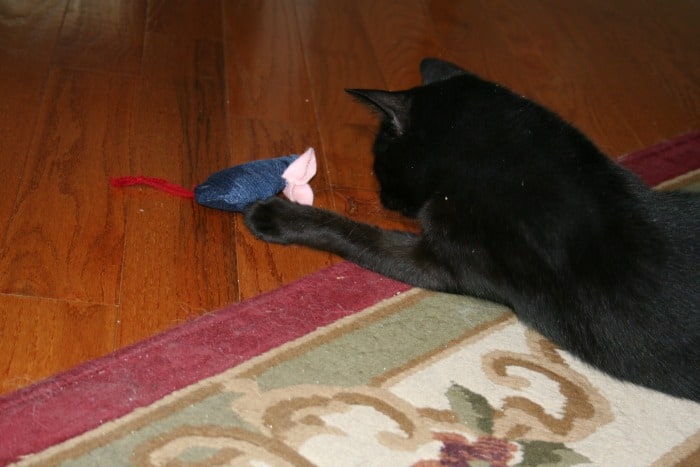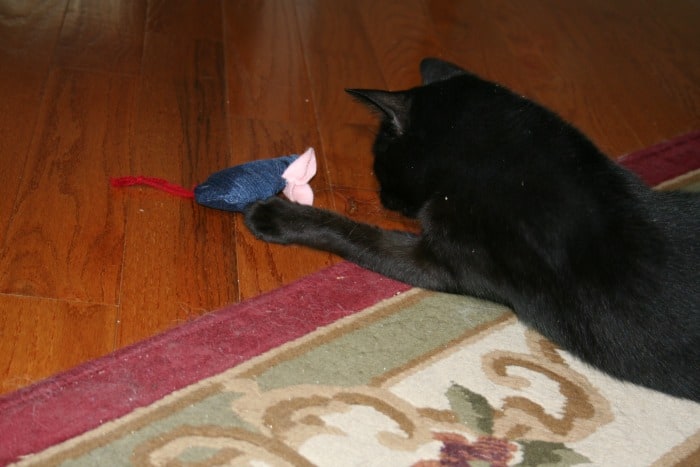 What do you do with an old pair of blue jeans? Make them into catnip mice, of course! I found a pattern online from the Practical Herbalist, and today, sat down at the sewing machine to sew up a nifty little mouse.  The ears are too big and I sewed the tail on backwards on my first attempt, but fortunately for me, Genghis Khan kitty doesn't care. He demonstrated his appreciation for his new toy by licking it, chewing it, throwing it around the family room a few times, then licking it some more.
Growing Catnip
If you're going to make a catnip mouse, you need catnip. Growing catnip is fairly easy to grow in sun or shade. It's a relative of mint, and if you've ever grown mint, you know how easily it can take over the garden. Catnip is no exception. It seeds freely and sends out underground runners, which will quickly colonize your garden. If you'd prefer just a small amount of catnip, grow it in a container.
Catnip requires well-drained soil, and it does well in sandy loam or loamy soil. Supposedly the sandier the soil, the stronger the aroma.
To grow catnip, directly sow seeds in the garden after the last danger of frost is past. Water well. In about three months, you should have a bushy plant about 2-3 feet tall with aromatic foliage and white or light blue/purple flowers. Bees adore the flowers, so be careful working around catnip!
Drying Catnip
To dry catnip, snip off mature branches late in the day when the plants are dry. In other words, don't cut the branches after a rainstorm or after you've run the sprinklers or hose. I like to tie up the ends of the bundle and either hang the bundle upside down in the garage with a paper bag over the tops or dry the catnip in an old roasting pan set outside. The problem with the roasting pan method of solar drying catnip around here is that with five cats, someone is bound to find the drying nip. My cats pretty much ignore catnip when it's fresh but once it's dried? They turn into nip fiends. They'll roll in it, eat it, chew it, slobber all over it and generally make a mess. To keep it dry and clean, I hang it upside down with the paper bag over it in my hot, dry garage. The paper bag keeps insects and dust off of the drying leaves while also allowing for good air circulation.
After about 10 days, the nip is ready to be crushed and poured into glass jars. I insert little packets of desiccant gel that come with shoes into the top of the jars so that it helps dry out any lingering moisture.  The packages stay sealed so that none of the desiccant gets into the catnip. I compost the twig-like stems, and usually one or two drying rounds gives me plenty of dried nip for my feline fiends.
How to Make a Catnip Mouse
The pattern for this little guy came from the website, The Practical Herbalist.  It's basically a heart-shaped piece of fabric sewn, stuffed and decorated.  I'm all thumbs when it comes to crafts but even I managed to make a respectable-looking mouse. Well, he was a bit lumpy, but Genghis Khan kitty didn't care.
As you can see, he gives it four paws up – his meow of approval – and asks for more.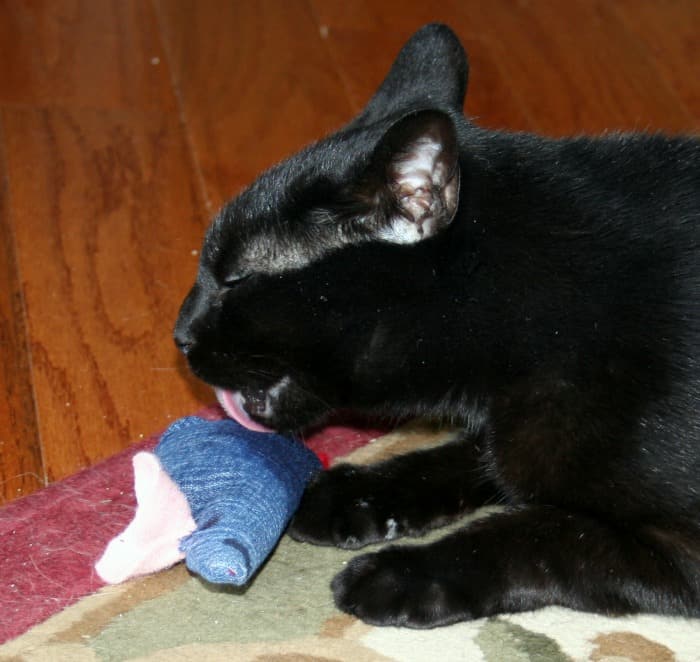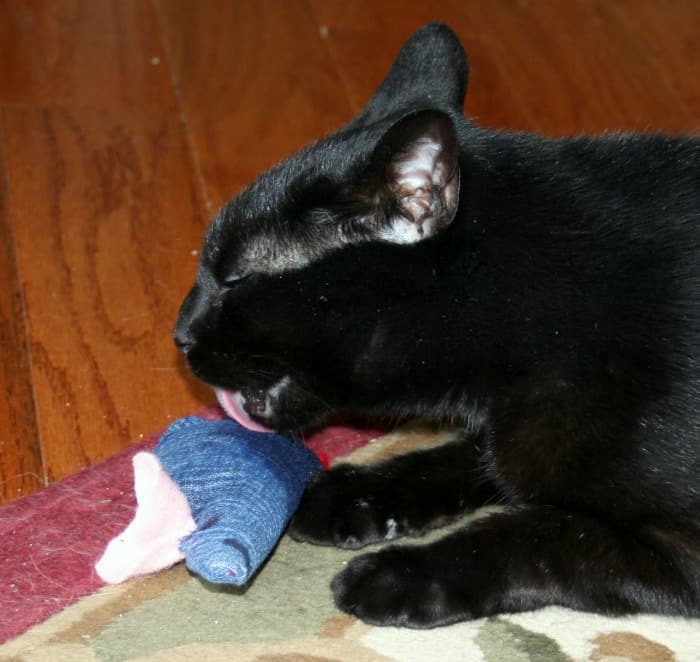 Jeanne Grunert is a certified Virginia Master Gardener and the author of several gardening books. Her garden articles, photographs, and interviews have been featured in The Herb Companion, Virginia Gardener, and Cultivate, the magazine of the National Farm Bureau. She is the founder of The Christian Herbalists group and a popular local lecturer on culinary herbs and herbs for health, raised bed gardening, and horticulture therapy.