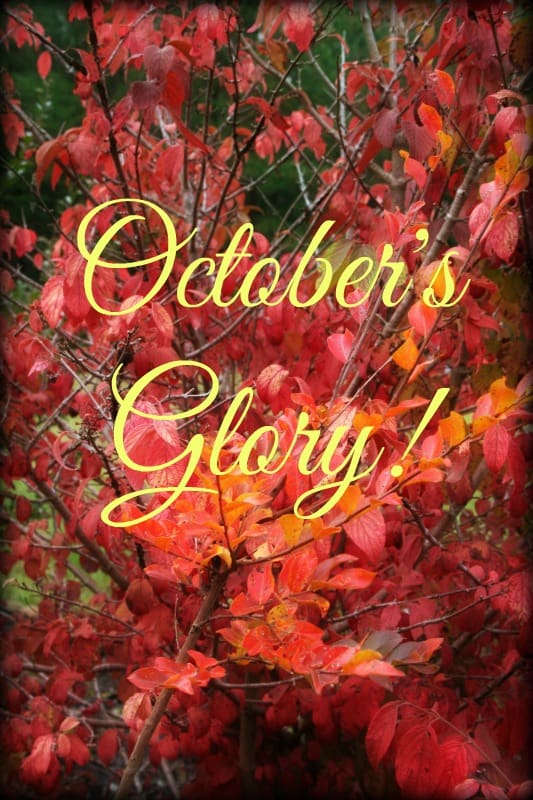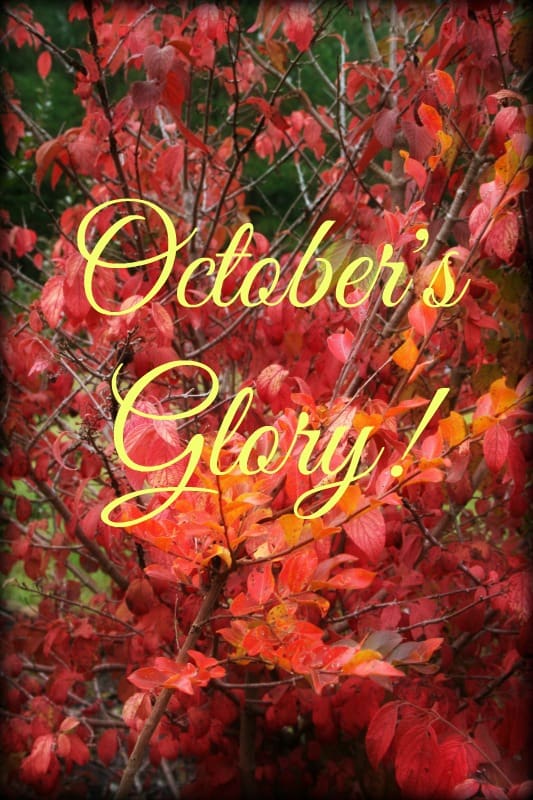 Happy Monday, and happy last week of October! This is one of my favorite times of the year. Halloween brings with it all sorts of fun and frolics, the garden work slows down to a reasonable rush, and the weather is cool enough for hiking. I'm grateful to have worked in many of my favorite activities this October.
Hiking at Mt. Pleasant, Virginia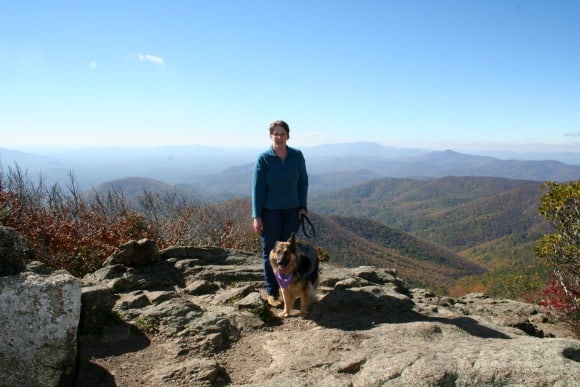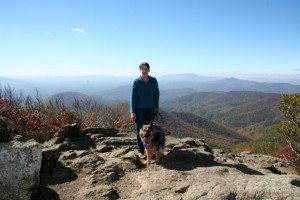 Last year, Hubby, Shadow and I hiked the Mt. Pleasant trail up to the summit, then hiked the connecting saddle trail to Mt. Pompey and down again to the parking area in the George Washington National Forest near Amherst, Virginia.  Well, it was so rainy and foggy that not only did we NOT see the spectacular views promised on all the websites, but we got soaked to the skin. Bummer!  This year, we waited until the weather promised crystal clear skies, and hiked again to the summit. As you can see, we were amply rewarded with wonderful views from the top…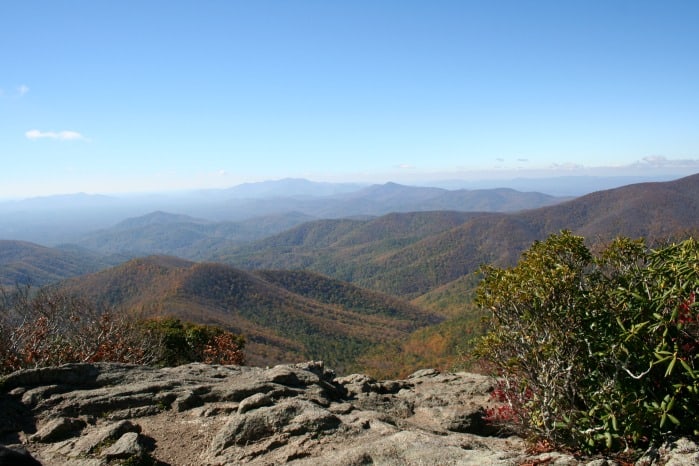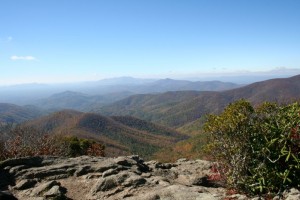 …and at the bottom of the hike, too….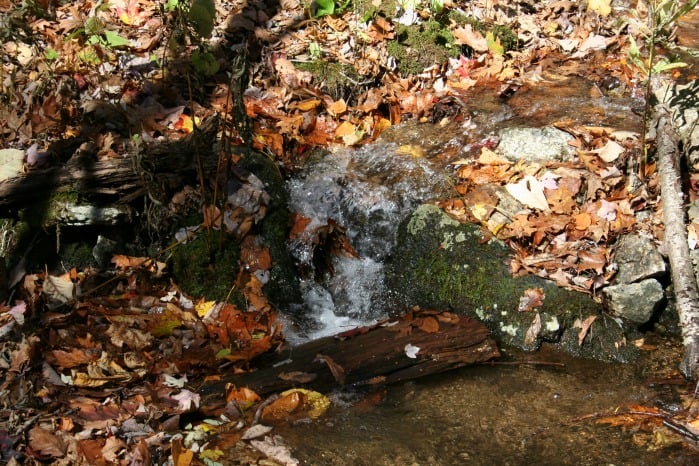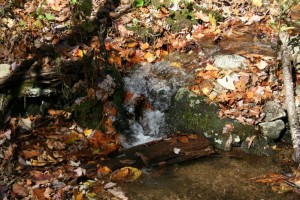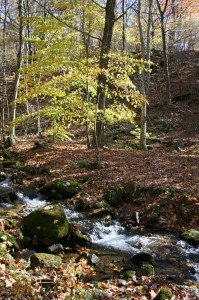 If you're interested in the hike, Hiking Upward has a detailed description of the trail, a trail map and more. One word of caution: this isn't a hike for people who are very out of shape or with small children in tow. Although it is only 2.8 miles to the summit, about .5 mile to each lookout, and then down again, it's a strenuous hike. Lots of rocks, rock climbing and at the end, a scramble up a big old 7 foot tall rock to see the views. It's a lot of fun, but not for beginners.
Shadow was a trooper. She's weather her hiking vest, which attaches via Velcro onto her backpack. She carries our water along the trail. The dog backpack comes off easily, which is a plus on trail. At one point, she had to climb a big rock and couldn't make it. I took off her pack and used the strap on the back of the connecting vest to hoist her up and over the rock so that my husband could grab her and carry her the rest of the way over the rocks. Then her pack just attached again easily with the Velcro, and we were on our way again.
This is Shadow's pack. It is made by Outward Hound.

Fall Gardening Tasks
I mentioned that the gardening tasks have been slowing down somewhat, and while that's true, there's still plenty to do in the fall. If you've missed my previous post about what you should be doing in the garden now, check out Five Fall Gardening Tasks.
I made sure that I cleaned up the vegetable garden, removing the tomato and pepper plants so that the dead plant material wouldn't harbor diseases and insects over the winter.  I also mulched my strawberry bed with pine straw. Pine straw is simply dried pine needles. We grow loblolly pine trees on our farm for the paper industry, and they produce plenty of pine needles. I rake them up into a pile and move them into the strawberry bed. It protects the plants against freezing, heaving and winter damage.
I'm experimenting with composting in place and have begun adding material directly into the raised beds instead of placing them into the compost pile. This is like the Ruth Stout method of gardening, or lasagna gardening, where you layer composting materials on the soil. I just dig a hole and bury the kitchen scraps, then mix it up every month or so to integrate it into the soil. I'm testing one garden bed with this method to see if it improves the soil. I plan to move compost and the lovely, juicy, wriggly worms from the compost pile into my raised bed vegetable garden, too. That will help break down the materials quickly and efficiently. Got to love those worms; they're very hard working, useful critters!
Lastly, I've taken all my house plants back inside, and moved the geraniums from the planters into my office and the spare bedroom. Here are the geraniums keeping me cheerful company in the office today:
Home Joy: Baking!
I love to cook, and my one regret with not having a big family is that I'm only cooking for two – okay, three is you count Shadow.  But seriously, it's hard when you love to cook and have a small audience for your cooking. At least with a big family, if someone doesn't like your experiment or recipe, someone else will and it won't go to waste.
This weekend, I found time to bake, which I love to do. I baked a lemon meringue pie using a Jello lemon pudding for the pie filling. I only ruined one egg as I tried to separate three eggs for the filling and meringue crust. And at least the ruined egg could be used to make supper; I use an egg in my meatloaf recipe to bind it together, and it all worked out somehow.
The pie came out light and fluffy. That means it has less calories, right? Say I'm right, okay?
The Cats…
Lastly, a few pictures of the fur babies here at Seven Oaks. Pierre, Shy Boy, Groucho, Whitey and of course, Genghis Khan kitty are all up to their usual antics. We now have a feral, a big old orange tom cat we've nicknamed Rocky, who we've been feeding whenever he deigns to show up for meal times. I don't have pictures of him yet; he's afraid of the camera, and I don't want to spook him, even if it is Halloween.
This week on the blog, I have a few fun things to share with you in honor of Halloween. I'll share links to some of my Halloween fun essays; some spooky ideas for Halloween treats, and more.
I've also put my short ebook of spooky stories on sale at Smashwords. Download it as an ebook in any format, including a PDF, for just 99 cents.  Paperback is also available on Amazon.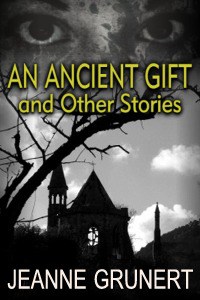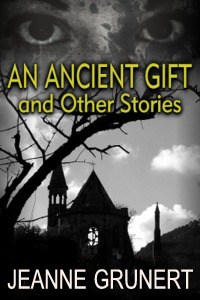 Jeanne Grunert is a certified Virginia Master Gardener and the author of several gardening books. Her garden articles, photographs, and interviews have been featured in The Herb Companion, Virginia Gardener, and Cultivate, the magazine of the National Farm Bureau. She is the founder of The Christian Herbalists group and a popular local lecturer on culinary herbs and herbs for health, raised bed gardening, and horticulture therapy.