Today I'm reviewing Near East Quinoa Blend. This Fair Trade product made a fast, delicious and healthy meal. It's great for cooking with tomatoes, basil and more.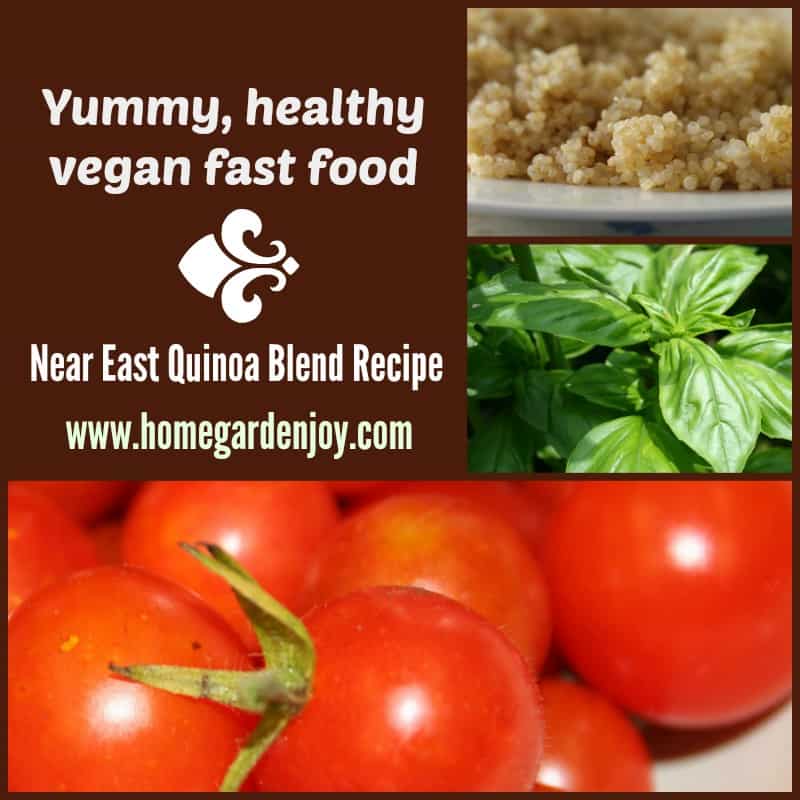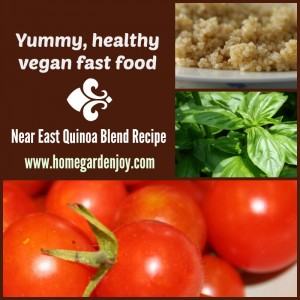 I received a free box of Fair Trade goodies as a Klout Perk and nestled among the delicious Fair Trade chocolates and (joy, oh joy!) Celestial Seasonings Earl Gray Tea – Fair Trade tea! Early Gray tea! – was a box of Near East Quinoa Blend. This new Fair Trade product blends colorful quinoa, a South American grain, brown rice, and various spices into a hearty, filling dish.  I made the box today for my lunch and decided to experiment by adding additional garden ingredients.
The weather forecast for later this week is for temperatures to plunge into the 20s at night and the 40s during the day, so I knew the last of my cherry tomatoes would be gone. Already the frosts have killed the vines, but a few tomatoes lingered, and so I picked and washed them carefully. I had basil already picked and drying in the garage, so that was an easy addition. I rinsed a can of Great Northern Beans, and since I am not vegan, added a sprinkle of cheese for additional protein.
The result? A delicious meal.
The Near East Quinoa Blend Fair Trade Mix was easy to make. Simply heat 1 3/4 cup of water in a large pot on the stove along with the quinoa blend grains and 1 teaspoon of olive oil. When the mix gets going with a good, solid rolling boil, stir and add the spice package. Lower the heat so that it's gently boiling, and boil it uncovered for 13 to 17 minutes. Stir it occasionally so it doesn't stick to the pot. At the end of the cooking time, cover the pot and turn off the heat. Let it sit for 5 minutes. Then, mix in your favorite vegetables and beans, and you're done.
I am not a huge fan of quinoa or brown rice, so I was skeptical about this mix. But I decided to give it a try, and I am glad I did. It had a chewy texture that was pleasant and mixed well with the beans and vegetables. The spices were strong and Middle Eastern flavored, a good counterpart to the mild flavored vegetables. Go very easy if you add your own spices – the basil was a bit much, but the tomatoes were perfect.
I found I needed to adjust the cooking time significantly. I had to add a few minutes to the boiling time; the brown rice was still a little crunchy at the end of 17 minutes. I also needed to let the pot sit, covered on the stove, for about 10 minutes instead of 5. After that time, it was the perfect texture.
I refrigerated the leftovers and look forward to having it again for lunch tomorrow. I give this two thumbs up, and recommend the product to those looking for a whole grain alternative to plain brown rice.
For more information on Near East products, visit the company website. To learn more about Fair Trade products, visit Fair Trade.
Disclaimer: I received a free product sample to try in exchange for a fair review. The product value is approximately $2.
Jeanne Grunert is a certified Virginia Master Gardener and the author of several gardening books. Her garden articles, photographs, and interviews have been featured in The Herb Companion, Virginia Gardener, and Cultivate, the magazine of the National Farm Bureau. She is the founder of The Christian Herbalists group and a popular local lecturer on culinary herbs and herbs for health, raised bed gardening, and horticulture therapy.