I sign every post with "Happy gardening – Keep GROWING!" It's my motto. I want to keep growing in all areas of my life, not just keep my garden growing! I am growing my life now instead of just making a living as I did years ago when I marched to the beat of someone else's drum. Here's what's been happening at the farm, at the lectures and talks I've given recently, and in the kitchen on a rainy day….
Butterfly Garden and New Gardening Crafts
The rain has been good for growing both plants and weeds. I added bee balm (Mondarda), salvia and calendula to the butterfly garden this past week. The rains really soaked the plants and gave them a healthy head start.
Because it was pouring again yesterday, I spent time in the house working on new gardening and herbal crafts to share with you on the blog. One is previewed above. I made a butterfly "puddling" bath for the butterfly gardening using a recycled wine bottle and rebar, plus a few items from the dollar store. It's working great, looks pretty, and cost less than $2 to make…and yes, instructions for making your own are coming up this week.
Herbal Crafting
I've also branched out into crafting with herbs. First, I made wildcrafted chickweed infused oil this spring. Then I transformed the oil into a wonderful hand salve scented with essential oils. It's soothing, anti-inflammatory, and not only helped my chapped hands, but also seemed to help the aching ligaments and tendons in my hands. Because I write and weed all the time, my hands can really hurt. Rubbing the salve into them helped a lot. I made it using a few simple ingredients and will share the recipe with you on the blog in an upcoming post.
I also spent an afternoon harvesting and bundling catnip. We have so much catnip now! I plan to make some little catnip stuffed mice, both as give away toys for friends' cats and for cat rescuers, and perhaps to sell on Etsy to raised money for some of my favorite animal charities.
Gardening Lectures and Talks in May
I had the great pleasure of giving not one, but two talks, this May. The first was at the Heart of Virginia Master Gardner plant sale. I spoke for about 40 minutes on adaptive gardening, or gardening for the handicapped. I am in the midst of writing an entire new section for Home Garden Joy that will share with you tons of information on how you can adapt your garden and gardening techniques if you have physical limitations.
Here I am giving my talk and with my partner on the project, LouAnn Dumminger: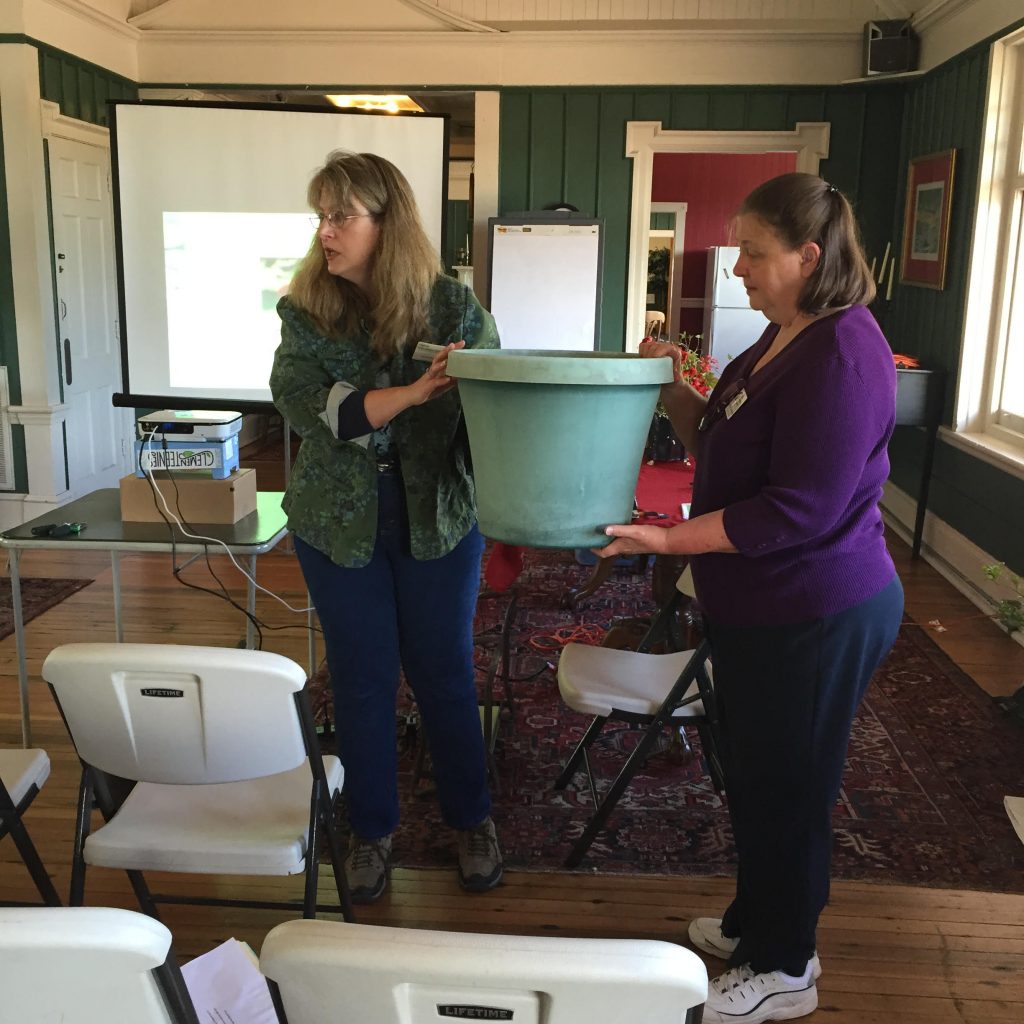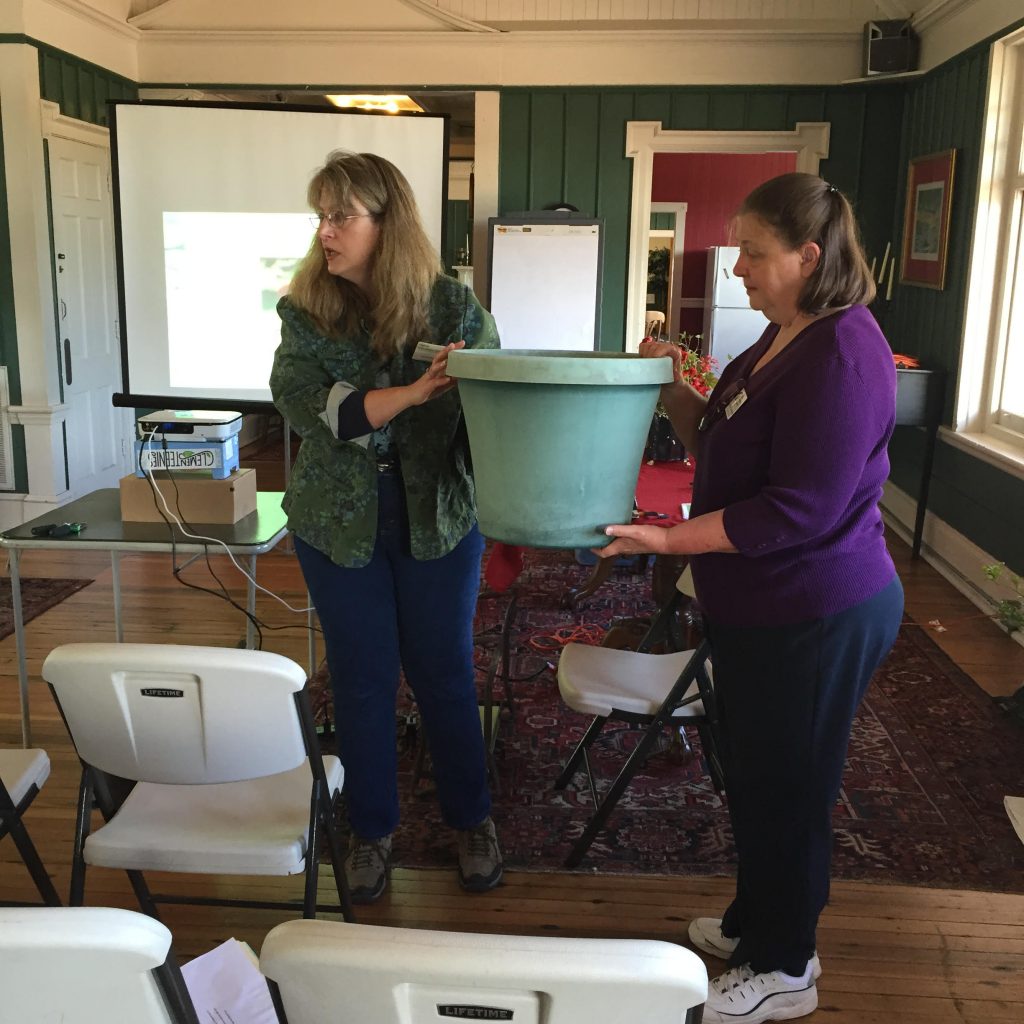 This past weekend, despite the rain and clouds, plenty of people attended Herbal Faire at Evergreen Lavender Farm in Evergreen, Virginia. We had about 20 people attend the free lectures in the barn. I spoke at 9 a.m. about growing three Italian culinary herbs and my books were available for purchase. A huge thank you to Kathy from the Southside Virginia Herb Society for her support and her wonderful 10 a.m. talk, and for Beth Reynolds of Long Ears Herbs who let me "borrow" a few plants for demonstration purposes and who gave the 11 a.m. talk. Great time, great people, and wonderful farm
At one point, driving home from Herbal Faire, I suddenly had a flashback to my life 10 years ago. Ten years ago on a May Saturday like this I would have been at home, thinking miserably of the work week to come and wondering how on earth I was going to live through another crazy week. I hated my job, I hated living in New York, and if it wasn't for working on my own side business, writing, and my wonderful husband, I don't think I would have had ANY bright spots in my life. I knew we would move, but when?
I never could have imagined that the thickly wooded piece of property we bought in Virginia in 2005 would lead to a resurrection of my writing career, rekindling of my passion for gardening, and a whole new lifestyle for me. New wonderful friends, new places to explore, and so many ideas to share. It's been an incredible journey and a wonderful spring so far and I look forward to sharing more of it with you.
So, my friends…happy gardening and…KEEP GROWING. Always keep growing.


Jeanne Grunert is a certified Virginia Master Gardener and the author of several gardening books. Her garden articles, photographs, and interviews have been featured in The Herb Companion, Virginia Gardener, and Cultivate, the magazine of the National Farm Bureau. She is the founder of The Christian Herbalists group and a popular local lecturer on culinary herbs and herbs for health, raised bed gardening, and horticulture therapy.