This easy, healthy, whole food-based leftover turkey casserole recipe uses simple ingredients filled with vegetables for dish even the fussiest eaters will love.
Easy Leftover Turkey Casserole
Happy Thanksgiving! I hope your Thanksgiving was wonderful. Hubby and I spent a peaceful, relaxing day watching movies, reading books by the fireplace, and chasing all the cats away from the turkey.
We discovered that Micawber is crazy about turkey. I don't doubt another ginger tabby was the inspiration for Garfield – I've never seen a cat beg so hard for a bit of turkey!
You may be wondering why two people cook a 24-pound turkey. Sure, we have seven cats, but not all of them are as crazy about turkey as Micawber – and too much turkey probably isn't good for them.
We love leftover turkey. We'll cook a big turkey at Thanksgiving and enjoy it for the week to follow. I made a huge vat of bone broth from the turkey which I'll turn into soup for a few meals and can the rest.
I also made this turkey casserole which turned out to be a hit with my husband. He doesn't love casseroles as much as I do. I grew up eating casseroles at least once a week. My mother would make a big roast on Sunday, we'd eat leftovers on Monday and a casserole on Tuesday or a pot of soup on Thursday would finish out the large roast chicken, ham, or turkey.
We are eating what is called a 'nutritarian' diet these days, a term coined by Dr. Joel Fuhrman, in an effort to boost our health and lose a little weight. As you can see, the casserole takes up only half of the dinner plate; the rest of my plate is chopped kale, sauteed in water with a splash of lemon juice. I'm not a huge kale fan, but all of the evidence points to the many health benefits of green, leafy vegetables, so I am working hard to at least tolerate kale. Thankfully, I love chard, broccoli rabe and spinach. As soon as spring comes, I'll be planting all three.
Easy Leftover Turkey Casserole
I used diced white meat turkey from the cooked Thanksgiving turkey, red onion for color, and tricolor vegetable pasta. The tricolor vegetable pasta is infused with spinach, carrots, and beets, which give it the lovely color, higher B vitamin content, and a fine taste.
Be sure to cook all ingredients before pouring it into an oven-safe casserole dish and baking it. Refrigerate and enjoy the leftovers.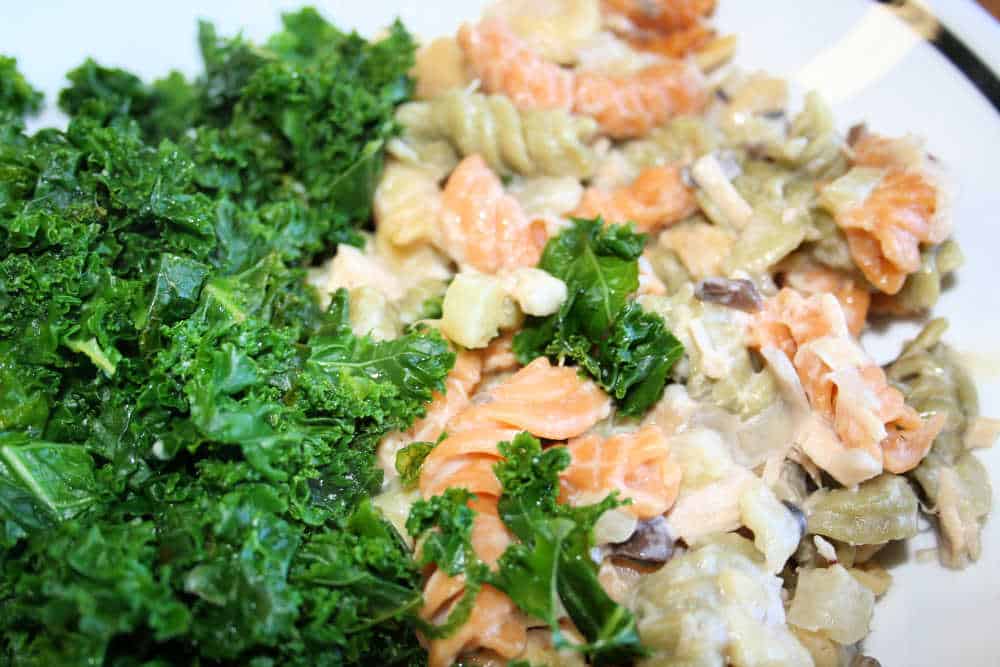 Leftover Turkey Casserole
A creamy, vegetable-infused casserole that uses leftover turkey. Cook all ingredients before mixing and pouring into casserole dish. Refrigerate leftovers. Preheat the oven to 350 degrees while you are cooking the pasta and vegetables.
Ingredients
1

cup

diced, cooked turkey

1/2

box

Ronzoni tricolor vegetable pasta

1

can

Campbell's Cream of Mushroom soup

1/2

cup

2% milk

3

stalks

celery, diced

1/2

red onion

diced fine

1/2

cup

fresh mushrooms

1/4

cup

grated Parmesan cheese

1/8

teaspoon

soy sauce

sprinkle

finely grated mozarella cheese
Instructions
Boil water and cook pasta for 9 minutes. Drain and set aside.

In a saucepan, heat 1/4 cup of water. Add onions and sautee gently for 10 minutes, stirring frequently and adding more water as needed. Add celery; keep cooking. Add mushrooms at the end and cook until all are fork-tender.

Dice the cooked turkey.

In a large bowl, mix pasta, drained vegetables, turkey, soup, milk, soy sauce and Parmesan cheese. Stir; pour into casserole dish.

Sprinkle shredded mozarella on top.

Cover casserole dish and bake, covered, at 350 degrees for 45 minutes.

Let cool 5 minutes before serving.
Jeanne Grunert is a certified Virginia Master Gardener and the author of several gardening books. Her garden articles, photographs, and interviews have been featured in The Herb Companion, Virginia Gardener, and Cultivate, the magazine of the National Farm Bureau. She is the founder of The Christian Herbalists group and a popular local lecturer on culinary herbs and herbs for health, raised bed gardening, and horticulture therapy.