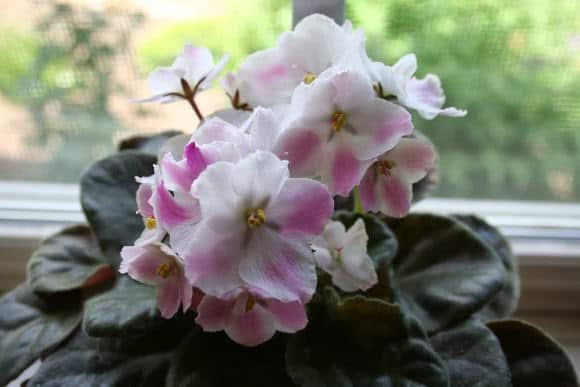 So at noon it was time to take a break, but I can't bear to look at more housework, other than Mount Washmore the laundry pile which must be tackled today. I took out the beautiful yellow cachepots Anna Polina sent me. I really like how they set off the green walls in our Florida room, and my African Violets needed repotting, so off I went to repot them.
These African Violets are special. My sister Mary gave me leaf cuttings at Christmastime and I grew them from leaves from her plants. She gave me six leaves, two of each of three colors she had in her living room, and one died. I have no idea which surived. Imagine my surprise today when I saw a white bud on one!
I seem to have a knack for raising African Violets. The one in my office blooms profusely, and the ones in the Florida room are thick, green and healthy, and now budding.
I transplanted them into larger pots and got a surprise bonus; a tiny little offshoot plant! It went into a third pot. A little water, and now I have three gorgeous cachepots on the windowsill filled with African Violets, waiting for Pierre to knock them all down.
A few tips on raising great African Violets:
East or West light is best…think diffuse, bright light
Let them get pot bound. This means let them get too big for their pots. They bloom more that way.
Let them dry out between waterings. More African Violets die from overwatering than anything else.
Jeanne Grunert is a certified Virginia Master Gardener and the author of several gardening books. Her garden articles, photographs, and interviews have been featured in The Herb Companion, Virginia Gardener, and Cultivate, the magazine of the National Farm Bureau. She is the founder of The Christian Herbalists group and a popular local lecturer on culinary herbs and herbs for health, raised bed gardening, and horticulture therapy.