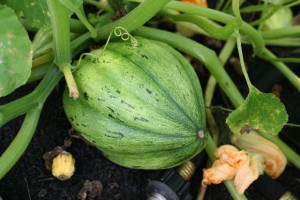 Acorn squash in my garden. Photo by Jeanne Grunert.
I find that knowing when fall squash is ripe is tricky. Summer squash is fairly easy. You just reach down and if the squash or zucchini looks big enough, you pick it, peel it, cook it and eat it. The worst that happens is letting the squash grow too large; then it gets kind of fibrous and tough inside.
Winter squash gives you some clues as to when it's ready to be harvested. The outer shell, for example, turns a rich, dark green on acorn squash; it also hardens up, which is nice for storage. And like watermelon, the little tendrils near the stem turn brown and brittle, another signal that the fruiting portion of the plant, the acorn squash, is ready to be picked.
Jeanne Grunert is a certified Virginia Master Gardener and the author of several gardening books. Her garden articles, photographs, and interviews have been featured in The Herb Companion, Virginia Gardener, and Cultivate, the magazine of the National Farm Bureau. She is the founder of The Christian Herbalists group and a popular local lecturer on culinary herbs and herbs for health, raised bed gardening, and horticulture therapy.