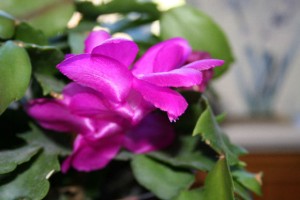 Christmas cactus blooming…
I love Christmas cactus, and nearly every single one that I'm growing indoors as a house plant are in bloom right now. I thought I'd share some pictures and information with you about how to grow these beautiful plants.
Christmas cactus hail from the moist, cool mountainous regions of Central America. Like poinsettia, they bloom when the night and day length are about equal, or 12 hours each. Mine begin blooming near the autumnal equinox, setting buds and blooming right through until Christmas.  If you have indoor plant lights, you can set a timer up on the lights so that the day and night schedule mimics the 12 hours of daylight and 12 of darkness they would receive in nature.
Another signal to the plant that sets its blooming clock are shifts in temperature. I keep the windows open during cool fall evenings in the room where my Christmas cactus are located. Daytime temperatures around 65-75 and night temps in the 50s (Fahrenheit) are ideal to coax a Christmas cactus into bloom.
Unlike their desert counterparts, Christmas cactus actually need moisture, and dislike bright light. So keep the soil moderately moist and place them indoors in a bright window, but not under direct sunlight. A bright window faces east or west; direct sunlight is a bright southern exposure.
Here's an example of what happens when a Christmas cactus is kept on a southern-facing windowsill, in direct sunlight. Take a look at the leaves. They look burned.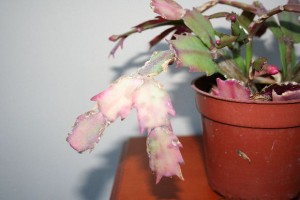 Christmas cactus that received too much direct light.
Here is what a healthy Christmas cactus leaf should look like – the tip is a bit damaged on one but the leaf is a good color, with no sign of scorching.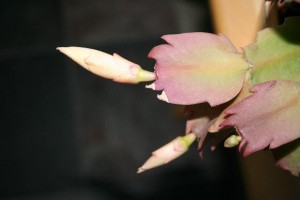 Healthy Christmas cactus leaf
One of the most common problems that friends share with me regarding Christmas cactus is buds forming but dropping off before blooming. I've found that the cause is usually one of two things, or perhaps both: uneven watering (dousing them with water one week, then forgetting to water them for long periods of time) or rapid changes in temperature, such as keeping them on a windowsill too near a radiator or another heat source.  Moving the plant to a location it likes better usually helps.
I've "adopted" my father in law's red Christmas cactus and it should bloom any day now. That's the one that looks burned, by the way – the poor plant was on a hot, sunny, south-facing windowsill. Worse yet, it came wrapped in a bright shiny silver foil paper around the pot. My father in law liked the paper, so he kept the pot wrapped in it. Can you guess what happened? The silver paper acted like a mirror, reflecting both the direct light and sun back on the poor plant. I'm surprised it lived!  It seems MUCH happier in my eastern-facing, cool plant room now.
To learn more about Christmas cactus, please see my articles on HubPages: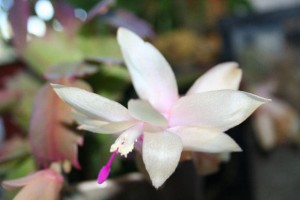 Another Christmas cactus in bloom
Jeanne Grunert is a certified Virginia Master Gardener and the author of several gardening books. Her garden articles, photographs, and interviews have been featured in The Herb Companion, Virginia Gardener, and Cultivate, the magazine of the National Farm Bureau. She is the founder of The Christian Herbalists group and a popular local lecturer on culinary herbs and herbs for health, raised bed gardening, and horticulture therapy.