You can learn how to grow onions in the home garden. Onions can be tricky to plant, but if you have raised beds or loam soil, they can grow well.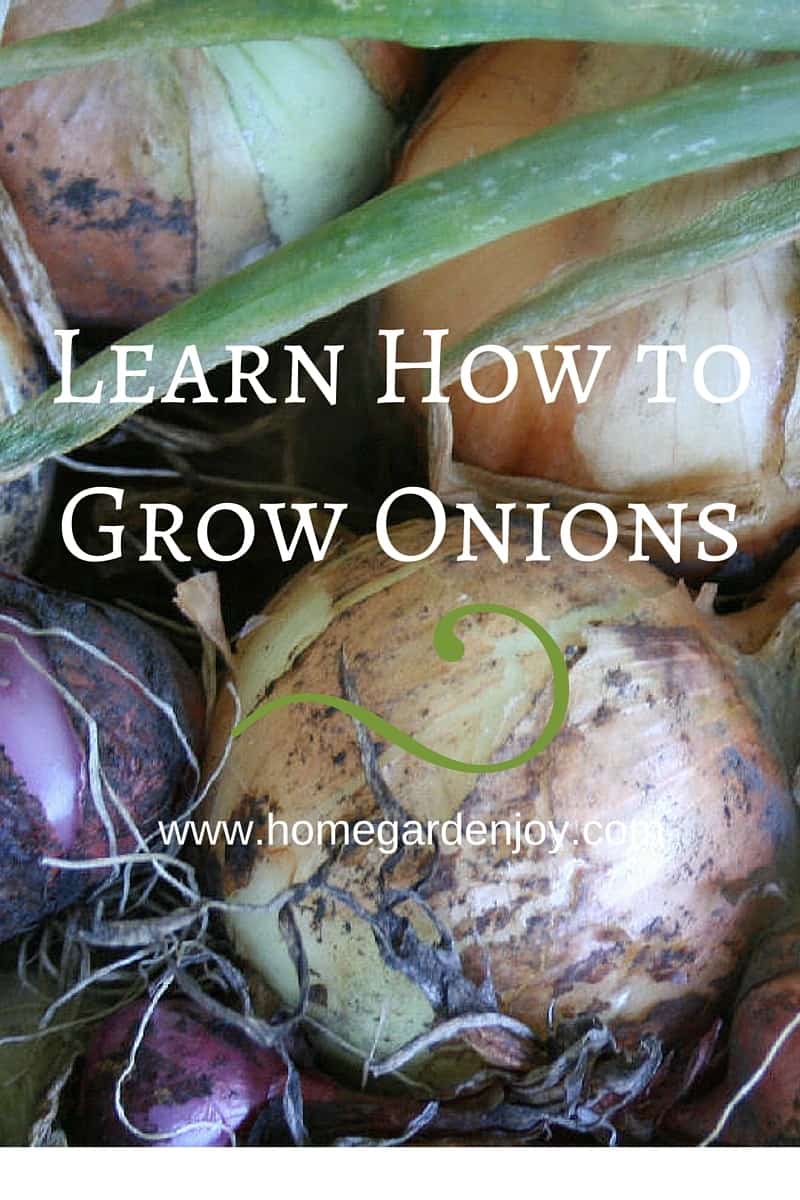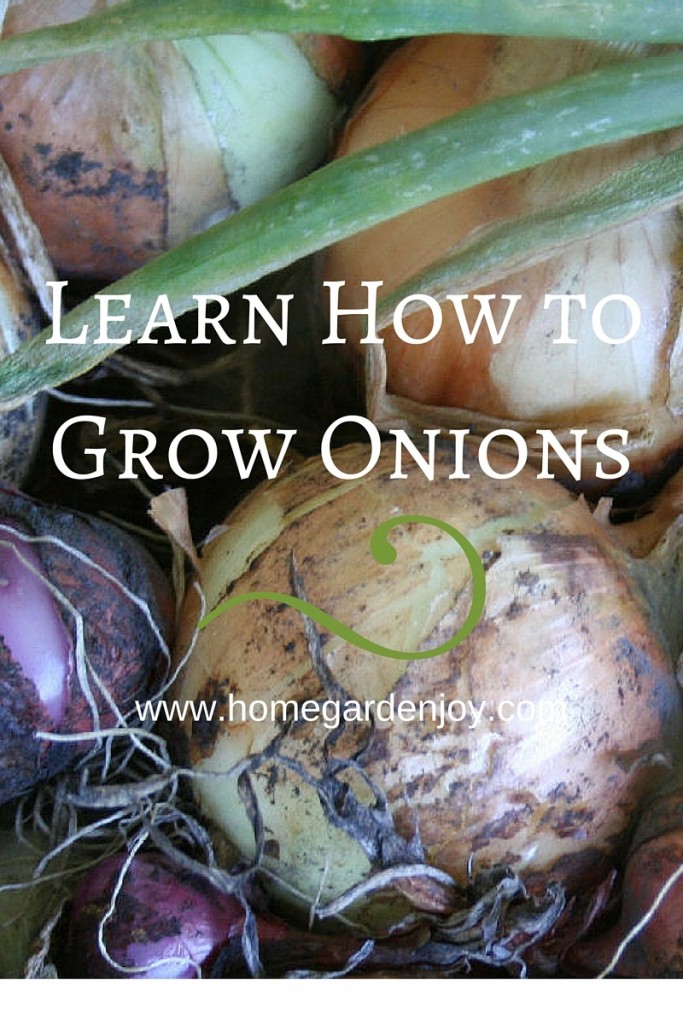 I've had a lot of fun growing different types of onions here at Seven Oaks, as you can see by the picture, above. I've grown small red Spanish onions, big yellow onions, and sweet Vidalia onions. This year's crop are simple, plain, goes-with-everything white onions. Investment: $2.50 for a bag of 50 starter onion bulbs. Yield: Probably 25 pounds of onions, which is I estimate 3 pounds for $2.50, comes out to about $21 worth of onions from a $2.50 bag and very, very little work on my part.
How to Grow Onions
Onions need rich, loamy soil, which I accomplished by growing them in the raised beds. I use the bed with untreated wood; this is where I grow most of my root crops. The soil pH should be between 5.5 and 7.0. A simple 10-10-10 garden fertilizer is adequate for their needs.
Onions can be planted from bulbs or from starter plants called "sets." I've tried both, and have better luck from the sets than the starter plants. The plants grown from the tiny bulblets are hardier in my garden and withstand light spring frosts, like the one we had last night.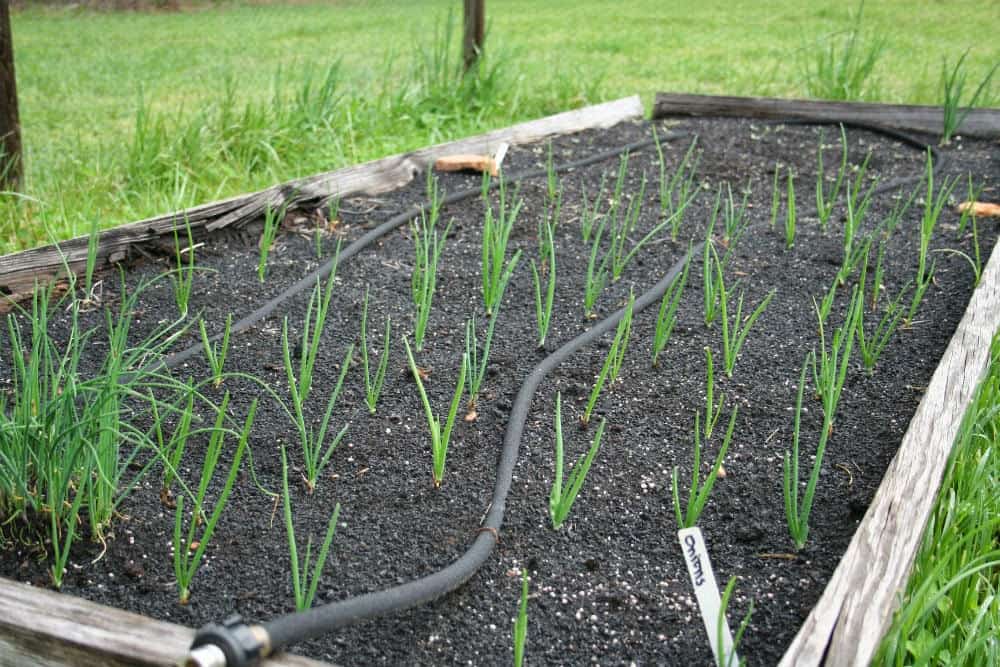 Onions growing in my garden.
Plant onions when the weather is cool. They prefer daytime temperatures of 45 to 60 degrees F during the growing season, and as the weather turns warmer, around 70 to 75 to cure or dry out before you store them. Adequate moisture is important (note the soaker hose, above) but they hate to be waterlogged. Too much water and you get rotted onions, which trust me, are NO fun to pick out from the garden. They stink to high heaven and squish into a delightful (sarcasm intended) smelly brown pulp.
The good thing about growing onions is that you can grow a lot in very little space. Mine shown in the picture above are actually spaced a bit too far apart; they can be as close as 4 to 6 inches, with about a foot between rows. You can really space them tightly together, especially the smaller types of onions.
Long Day versus Short Day Onions
When you look at a plant catalog, you might notice onions grouped as "long day" or "short day."  This is important, because the day refers to the time it takes to form the edible onion bulb.  Long day plants require 15 to 16 hours of daylight to set the edible portion, and are often better for northern gardens when the summer days are longer. Short day onions need just 12 hours to set the bulb; the closer you get to the equator, the average is 12 hours of sunlight.  Here in Virginia I grow the Long Day types.
Problems Growing Onions
The only problems I've had growing onions is with rot, as mentioned above. Stem and bulb rot occurs with too much water. Sometimes you can control the amount of water by simply cutting back on your own watering schedule, but a particularly rainy spring wreaks havoc with onions. Thrips and onion root maggot can attack them, but I have not had this problem; if you suspect insect issues, talk to someone at your local County Cooperative Extension Office.
For more information on how to grow onions (and garlic and shallots) see the Cooperative Extension paper online. 
More Vegetable Gardening Resources
Learn more about vegetable gardening on Home Garden Joy with the following articles:


Jeanne Grunert is a certified Virginia Master Gardener and the author of several gardening books. Her garden articles, photographs, and interviews have been featured in The Herb Companion, Virginia Gardener, and Cultivate, the magazine of the National Farm Bureau. She is the founder of The Christian Herbalists group and a popular local lecturer on culinary herbs and herbs for health, raised bed gardening, and horticulture therapy.