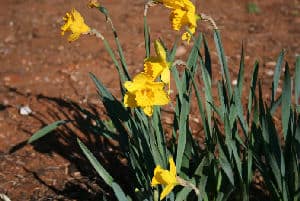 Spring is so evident now throughout the farm! The fields are turning green, and some of the trees have started to bud. Throughout the area we are seeing daffodils blooming near old silos, and young calves frisking about. We laughed ourselves silly over the cattle across the street as a tiny new baby decided he was going to entice the other cattle to play…he chased them, head-butted the youngsters, and generally made a complete nuissance of himself with the herd. We've never seen cattle at play before, but like all children, they DO play!
Called a few people who advertised free puppies, but all the pups seem to be smaller breed mixes or too far away…we keep holding out for the perfect Retriever/Shepherd/big dog mix that will fill the gap Mr. Fox hound left when he died. That's a big gap to fill, because there never was such a good dog…sniff…when the right puppy comes along, we'll know.
Work has picked up considerably for both my companies, and so my time in the garden is relegated to a half hour to an hour before dinner. I finished outlining the perennial beds with rocks picked up on the farm, and I used the larger stones as Belgian blocks along the driveway.
I started writing again. I picked up the old fantasy novel that I have written about a million times before. The first chapter is going well. I am taking 'baby steps' towards all my goals lately, and this one especially. Since my dad died, I've had so much trouble writing any kind of fiction. It took a long, long time before I felt ready to write again. I figure if I write a little bit each day I will eventually have that first draft ready to go.
This weekend, my aunts, Sister Janice and Sister Jean, will be staying with us. I am really looking forward to their visit. Let the marathon cleaning session begin! Today starts the cleaning. John has to fninish fixing the spare bed for my aunt…and the library is a mess, since he's not finished the shelves….and the kitchen needs a good scrubbing…let the spring cleaning commence….! We are also going to a concert at our church with Phil and Annette Hertzler. I'm really excited to share St. Theresa's with them, and with John too. I love this "little church in the heart of Virginia" and want to share it with them, although I'm not sure how our non Catholic friends will react to the Catholic church. We are going to a choral concert, so it's not a full Mass or anything, but it may inspire some questions. I hope my Catholicism knowledge is up to date enough to answer their questions!!!
Off to get dressed, then to my writing for the day. Lots to do including office work, more work in the perennial gardens, photos of new horse models to take and market on line, and several advertising emails to get out for our various customers and business concerns.
Enjoy spring!
Jeanne Grunert is a certified Virginia Master Gardener and the author of several gardening books. Her garden articles, photographs, and interviews have been featured in The Herb Companion, Virginia Gardener, and Cultivate, the magazine of the National Farm Bureau. She is the founder of The Christian Herbalists group and a popular local lecturer on culinary herbs and herbs for health, raised bed gardening, and horticulture therapy.