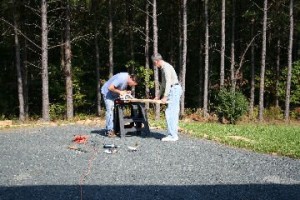 This is the start of my raised bed vegetable garden construction. It's good to see how far I've come with the raised garden beds.
Garden Construction – Raised Bed Vegetable Garden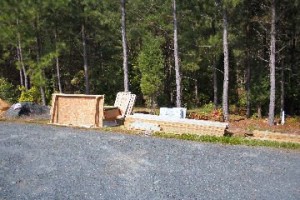 Garden construction begins today.
 Almost exactly one year since we moved to the farm, John began construction today of the garden shed/small barn and the vegetable garden.
We worked for three hours yesterday on the garden construction, measuring and marking the area. You can see in the photos the very tall posts we used to mark the edges of where the deer fence will go. Within that big rectangle, we will have 8 beds about 4′ x 12′ for vegetables and two huge 10′ x 12′ beds for corn, melons and the like.
One bed will be devoted to my passion, medicinal herbs, and
herb teas.
My goal next year is to grow and preserve nearly all our own vegetables.
When we add the chicken house, it will be next to the shed, with a fenced area – now the spot where you can see very tall grass – for the chickens to free range safely, away from predators such as the buzzards and hawks that live on the farm.
Photos show the shed kit in pieces; John and his dad Jack starting construction of the vegetable beds; and the area marked out for the shed (small posts, by the edge of the woods) and the garden (big posts that look kind of like goal posts).
Jeanne Grunert is a certified Virginia Master Gardener and the author of several gardening books. Her garden articles, photographs, and interviews have been featured in The Herb Companion, Virginia Gardener, and Cultivate, the magazine of the National Farm Bureau. She is the founder of The Christian Herbalists group and a popular local lecturer on culinary herbs and herbs for health, raised bed gardening, and horticulture therapy.