Cool weather vegetable choices for Virginia are similar to what I grew in New York. My top 5 cool weather vegetables shared here.

The blustery winds and sudden drop in temperatures today remind me that it's spring, despite the 80-degree day on Sunday. I did a quick check on the vegetable beds.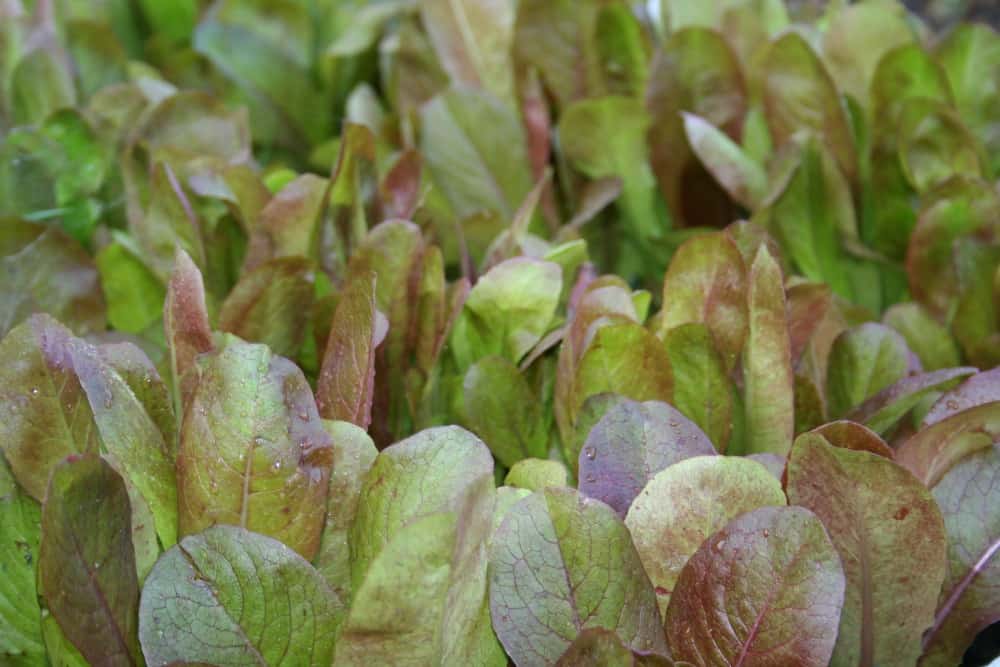 The cabbage seedlings continue to lose their outer leaves, with the newer growth coming in strong. I'm not sure if that's normal or due to the compost-infused soil being too rich for them. The broccoli seedlings look awful, but they did in the house too; the strongest is already lifting their little leaves high to the sun. The Brussels sprouts took to their new home in the great outdoors quite well and are already looking much happier than they did in days. The spinach, Swiss chard, lettuce, and broccoli rabe continue to thrive.
And the radishes? They've gone wild, quickly adding a second set of leaves and working on a third.
My Top 5 Cool Weather Vegetable Choices
Here's what's thriving in the garden at Seven Oaks (zone 7 most of the time, full sun, rich compost-infused soil in raised beds)
Swiss Chard Bright Lights:

This is my all-time favorite green, leafy vegetable, both for its color and how easy it is to grow in the garden. Have you ever eaten Swiss Chard? It's like spinach, but a little milder. You cook it just the same way or saute it in olive oil with a little garlic. You can also eat it raw, like lettuce. Bright Lights comes in a rainbow of colors. There's the usual green Swiss Chard, but dark orange, pink and yellow too. I grew this in the worst conditions (my former garden in Huntington, Long Island; heavy shade from a neighbor's trees, clay soil that was hard to amend, zone 6) and it did well. It's doing great here in zone 7, full sun, fully enriched soil. Can't wait for the harvest!

Broccoli Rabe:

I'm growing an heirloom variety this year from Burpee. In New York, we always bought Broccoli rabe at the grocery store. It's like little broccoli crossed with chard. It's delicious. And this heirloom variety seems strong…it's sprouting like mad. I hope you can see something of it in the pictures!

Radish – French Breakfast:

Do the French really eat them for breakfast? I have no idea, but the Burpee catalog promised me radishes so sweet I'd want to eat them for breakfast, so that's a start. They're supposed to grow well in hot, dry areas, which is what the garden will become in a few short weeks. I've also got traditional Red Glow Radishes.

Brussels Sprouts

: I love Long Island Sweet, and they thrive anywhere. I grew them in containers on my deck on Long Island because we had such shady conditions in the garden, and they produced nice sprouts too.

Spinach

: I've got two varieties going and my favorite is by far the Teton hybrid. It's tough, fast growing, and economical. We've got a little science experiment going between the Teton hybrid and a cheap packet I grabbed at Wal-Mart. So far, the Teton hybrid is outdoing the other.
Let's hope the weather warms up a bit in the next few days. Rain forecast for the end of the week, which will be great – especially since the tripod irrigator isn't hooked up yet!
Excuse me while I head out to the garden….
Jeanne Grunert is a certified Virginia Master Gardener and the author of several gardening books. Her garden articles, photographs, and interviews have been featured in The Herb Companion, Virginia Gardener, and Cultivate, the magazine of the National Farm Bureau. She is the founder of The Christian Herbalists group and a popular local lecturer on culinary herbs and herbs for health, raised bed gardening, and horticulture therapy.