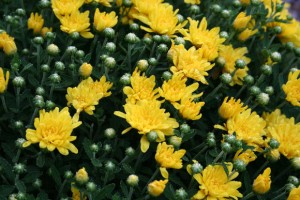 We've got plenty of hardy mums in the gardens here at Seven Oaks, and more added this year.  I forgot to cut most of them back in the spring, and ended up with a continuous show of mums blooming as early as July! Someone reminded me that you're supposed to cut mums back around May and again in late June so that they bloom later. One large mum in the little flower garden next to the deck threatened to grow right over the top of the garden lanterns, so I cut it way back in June, and am glad I did. At the time, I worried that I'd pruned it back too much, but now it is finally getting buds.
I have several bronze, purple and yellow chrysanthemum plants, and these hardy mums act as perennials in the flower gardens, returning year after year.  Last year, I added a beautiful subtle pink mum with large flowers that I bought at the Heart of Virginia plant sale down at the old Farmville Train Depot, run by the Master Gardeners of Virginia. They were labeled with the color but not the variety name, so I have no idea what I bought. All I know is that I planted my mums too close together and ended up with one gigantic tangle of green that bursts into bright pink in September.
My latest acquisitions hasn't bloomed yet, but did appear to settle in quite well in the same garden space. It's a spoon mum, and I was happy to find it in the Burgess catalog. Spoon mums have long, thin petals with a little "spoon" at the end. When my dad showed his mums in the Long Island Chrysanthemum Society, the big football mums and the spoon mums were my favorites.
I keep the mums in garden beds close to the house, because deer love to chomp on them. My friend Mary Alice once told me a story about her home in Pennsylvania when the deer found her mums. She had purchased over a dozen yellow mums from the garden center and spent a Saturday afternoon planting them among the foundation hedges around her house. She went inside to cook dinner, and idly looked out the window an hour later.  Suddenly she realized not one single flower was left along that entire strip of mums she had planted! A glance out a side window revealed a doe, happily grazing among the new flowers and pinching off each bud to eat them!  Deer will do that.  I don't know why they were so bold as to come right up to Mary Alice's doorstep, but here they leave my little side garden alone. I suspect "German shepherd power" or the fact that Shadow sets up a ferocious bark every time she spies a deer.
I'll post more pictures of mums as time goes by and more bloom. But for today, enjoy these early charmers, hardy mums in the garden.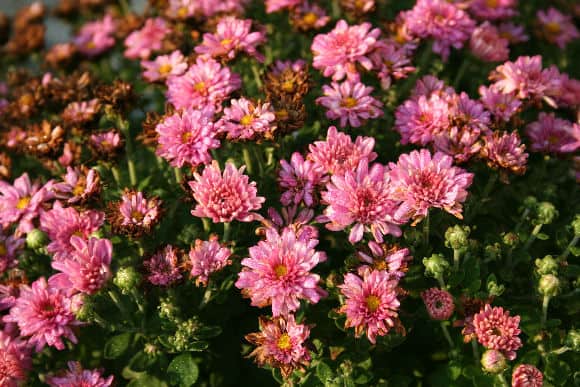 Jeanne Grunert is a certified Virginia Master Gardener and the author of several gardening books. Her garden articles, photographs, and interviews have been featured in The Herb Companion, Virginia Gardener, and Cultivate, the magazine of the National Farm Bureau. She is the founder of The Christian Herbalists group and a popular local lecturer on culinary herbs and herbs for health, raised bed gardening, and horticulture therapy.