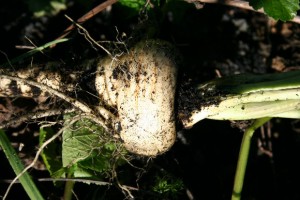 Last night for Sunday dinner, I made a roast chicken and three vegetables from the garden – fresh baked potatoes, broccoli, and parsnips.
Parsnips
Parsnips are a new vegetable for my family. Many years ago, I bought some at the store – a small bag, about 1 pound, for $2.99. I made a recipe out of Cooking Light. My family made faces and complained about the bitter taste. I figured that parsnips were one of those vegetables they just didn't like, and to tell you the truth, I didn't much like them either.
A short while after my failed parsnip experiment, I was away on a business trip at a large conference. It was one of those conferences where dinner is served in a hotel ballroom at round tables seating exactly 8 people. Everyone orders the rubber chicken, the burned steak, or the soggy fish, although of course they don't call it that. I ordered the rubber chicken and out it came from the kitchen served with whipped mashed potatoes and parsnips.  The best part of that meal (aside from the chocolate cups filled with vanilla cream as the desert) were the parsnips. The chef had cut them into matchsticks and sauteed them in butter. They were crunchy and sweet, with just a hint of zip.  I fell in love. I could easily have eaten an entire plate of just the parsnips and skipped the bouncy chewy chicken.
Reading about their growth and cultivation, I decided to grow them here at Seven Oaks this past year as part of my annual vegetable gardening experiments. Each year I choose a few new vegetables to try: this year, the experiment include horseradish (still underway), heirloom beans (not worth the effort), potatoes (lots of work but valuable) and parsnips.  Among the experiments, the parsnips were the very last to harvest, but worth the wait.
Parsnips always conjure up a musty image in my mind of a Victorian grandmotherly type in a long gray dress in a dusty house while a Victrola plays somewhere in the background. They really aren't in fashion, are they?  Kind of like the humble turnip, or a cabbage.  Perhaps in the south they are more popular than in the north where I grew up, but they do have that fussy-mussy, old fashioned aura about them.  Which is a shame, because not only do they taste good, they're good for you, and at least for me, they were easy to grow.
First off, parsnips need a long growing season. Depending on the variety, that's over 100 days, sometimes 120 days or more. I planted the seeds in April and haven't touched them since.  Every book and article I have read on growing parsnips states that you must leave them in the ground until the first frost; the frost transforms the root starches into sugars and makes them sweeter.
The first frosts occurred the last week of October, but we haven't had a meal where parsnips seemed like a tasty side dish – until last night.  I made the roast chicken, baked a few garden potatoes, and steamed some fresh garden broccoli as the side dish. Then I pulled out my favorite cookbook out all, the Fanny Farmer Cookbook, which provides how to information to cook all the basic vegetables, along with a few recipes to make them interesting. It was from Fanny Farmer that I learned how to cook beets and make Harvard beets, and once again the cookbook did not disappoint me on the parsnips.  Peeled, sliced, and boiled; then sauteed with butter, salt and pepper. I gave each family member a little spoonful but only told my husband what they were. If I serve him mystery food he gets annoyed with me.
The consensus was that they were delicious, and they were! The consistency was something between a potato and a carrot. The first taste was a bit like a potato too, with an aftertaste like carrots, but with a hint of something spicy there too.
According to my research, parsnips are actually related to carrots.  One thing of interest is that the ancient Greeks and Romans liked them a lot! Supposedly the foliage can exude a chemical that can burn the skin. Since I always garden wearing gloves, that's not a problem, but the books recommend harvesting them carefully while wearing long-sleeved clothing and gloves.
I looked up parsnips last night and found that they are very good for you; high in fiber, potassium and vitamin C.  Given that they required no cultivation whatsoever, and weren't bothered by a single insect pest, I will probably plant a few again next year. All I did was sow the seeds, thin them out a little,  and nature did the rest.  What can be easier?
Parsnips – one experiment that worked this year!
Jeanne Grunert is a certified Virginia Master Gardener and the author of several gardening books. Her garden articles, photographs, and interviews have been featured in The Herb Companion, Virginia Gardener, and Cultivate, the magazine of the National Farm Bureau. She is the founder of The Christian Herbalists group and a popular local lecturer on culinary herbs and herbs for health, raised bed gardening, and horticulture therapy.