Almost two years to the day, and the pink phaelanopsis orchid I purchased in December 2009 continues to bloom without ceasing.  It still has the round hole in the middle of the leaf as if someone used a hole punch on it, but every time one stem finishes blooming, another appears.

Phaelanopsis Orchid
I've had my phaelanopsis orchid in my bright, south facing office, but it is actually doing better in the cool east-facing plant room on the first floor. I water it once a week and that is it.  Everyone always told me that Phaelanopsis orchids were fussy, difficult plants. Not this one.  If you look very closely at the photo, you can see the beginning of yet another flower stem appearing under the old one.  I love this flowering houseplant and for a $2 bargain plant from the sale rack at Lowe's, it has been a wonderful houseplant!
I hope your Thanksgiving was great. I spent the day curled up in the living room recliner reading The Help by Kathryn Stockett.  I loved it and recommend it if you are looking for a good novel with very engaging, real characters. I like books like this but they are so hard to find. The last book I read that was similar to this in how I was drawn into the characters was John Irving's A Prayer for Owen Meaney, an older book that I checked out of the library in August.  After reading how the author struggled to get The Help published (I think I read that she received 65 rejections before an acceptance for publication, and she spent over five years working on it) I am feeling bolder about my own literary efforts. I write for a living, but writing sales and marketing copy and informative non fiction is so different from writing fiction and creative non fiction. I want to write a story that makes a difference but I lose heart so easily.  When I read about other authors' struggles, I feel better and not so alone. It makes me realize that writing rarely comes easily for anyone – and that for most of us, writing something of quality takes work.
So today is is back to work, albeit with some breaks in the schedule to finish planting bulbs.  I still have over 100 daffodils left in the garage that must get into the ground over the next week before the ground finally freezes solid. I tackled planting the tulip bulbs yesterday – 50 "Easter Joy" mixed pastels to add to the pink pastel tulips in the backyard planted near the deck (to avoid deer.)  Luckily for us, the weather looks like it will hold out and remain warm and sunny during the day, so I can get out there and get a few more bulbs in each day!
Raz got his sutures out this Wednesday and his infected leg healed up fine. He's very full of himself now that he has gained some weight. He was screaming to get out of his bedroom this morning and go for his daily excursion around the house!  I gave him a green stuffed mouse to play with and boy, he must be a great hunter of real mice.  He really played with that thing until I thought he would pop it the way Shadow does with the stuffed mice. She likes nothing better than stealing the cat toys and giving them one gigantic CHOMP in her massive German shepherd jaws, then dropping the remains of the popped mouse toy in front of the cats as if to say innocently, "What? I was just helping you!"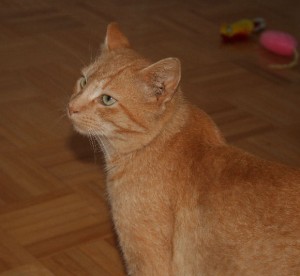 "Get away from my new toy, dog."
"What? I'm not supposed to pop the cat toys?"
Jeanne Grunert is a certified Virginia Master Gardener and the author of several gardening books. Her garden articles, photographs, and interviews have been featured in The Herb Companion, Virginia Gardener, and Cultivate, the magazine of the National Farm Bureau. She is the founder of The Christian Herbalists group and a popular local lecturer on culinary herbs and herbs for health, raised bed gardening, and horticulture therapy.