Are tulips perennials or annuals? The answer depends on the type you plant. How many years can you get beautiful flowers from a particular bulb depends almost entirely on the species.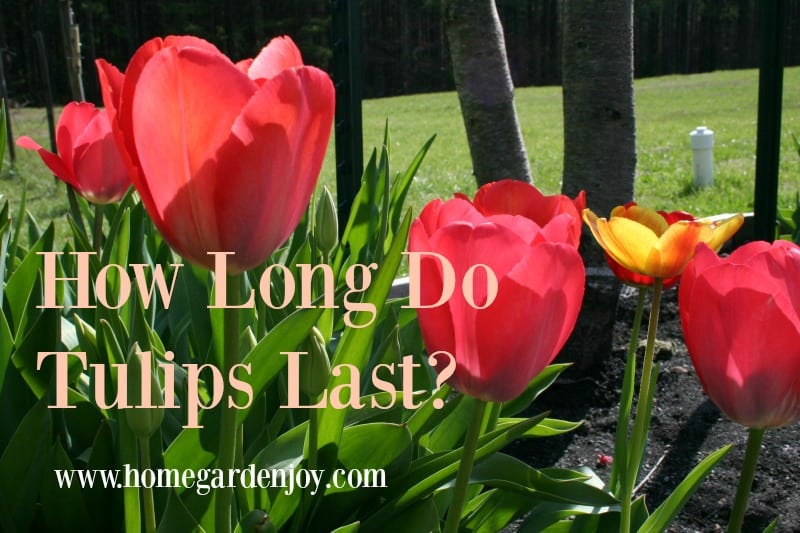 How Long Do Tulips Last?
For those who said, "Yes, tulips are annuals and should be treated as such because they don't come back as vigorously as in the first year – " the bulbs that I had which grew into the short, stubby and small-flowered tulips were new bulbs planted in November 2011, so it wasn't the fact that those bulbs were old. In fact, the
bulbs I planted
three years ago are producing the best tulips this year. So are tulips perennials instead of annuals?
That depends. Tulips can live anywhere from one to ten years, depending on the species and variety. The closer the tulips are to the wild varieties from Turkey, where the plant originated, the longer they live. A happy medium for those in gardening zones 4 through 8 in the United States is to find Darwin hybrid tulips, which continue producing beautiful flowers for several years.
Dividing Makes Them Last Longer
I purchased a bargain package heavily discounted at Walmart about three years ago, planted them, and crossed my fingers. Now they are tall, vigorous plants and it actually looks as if I need to dig them up this year and separate some of the little bulblets off of the parent bulbs – I have a feeling it's getting rather crowded in there. These tulips in my garden are now 5 years old.
Note this statement from the
North Dakota Cooperative Extension office
: "Tulips will last much longer than two to three years, but they often need to be dug up and spaced every three to five years to maintain their blooming vigor. I would suggest that this fall, you dig them up and reset them with more spacing and possibly in some new locations."
Are Tulips Perennials or Annual Flowers
So why do some people treat tulips as annuals and others expect many years from them? I know that the commenter who posted about the famous Dutch gardens treating the bulbs like annuals is correct.
If you want these flowers looking their absolute best, it's best to treat them as annuals. That probably explains why the garden center I worked at and the two famous demonstration gardens mentioned do the same thing. The public expects such places to look spectacular, and they must provide a great show of flowers for the visitors. So to ensure the best and most beautiful tulip displays, my best guess is that they do replant the bulbs each year.
Here in Virginia,
between the critters and the weather
, tulips are a tricky operation. I look forward to them every year and I guess I do need to adjust my expectations to view them as annuals, and if they return for more than one season, count my blessings and be thankful.
Jeanne Grunert is a certified Virginia Master Gardener and the author of several gardening books. Her garden articles, photographs, and interviews have been featured in The Herb Companion, Virginia Gardener, and Cultivate, the magazine of the National Farm Bureau. She is the founder of The Christian Herbalists group and a popular local lecturer on culinary herbs and herbs for health, raised bed gardening, and horticulture therapy.