Growing peaches has been one of the most rewarding aspects of planting the fruit orchard here at Seven Oaks. The ironic thing is that among the peach trees, the one we originally thought would die is the one producing fruit this year.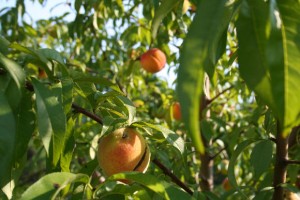 Peaches ripening on the tree
When we planted the fruit orchard trees in 2007, they came as bare root sticks called whips (I think) from the Arbor Day Society. This is an Elberta peach tree.  The first year, all of the trees struggled to develop roots, but this poor peach tree never thrived.  After two years it really looked as if it was going to die.  My husband wanted to build another little raised garden bed near the back patio. He came up with the idea of running a PVC pipe from the gutter and leader underground and into the soil under the raised bed.  Rainwater from the roof of the house now runs directly into that garden bed and to the roots of the peach tree. I was really on the fence with that idea. On the one hand, given Virginia's crazy hot summers and droughts, it sounded like a good plan.  On the other hand, I was concerned that the rainwater might rot the roots or over water the peach tree. The poor tree looked as if it wouldn't make it anyway, so we decided to take a chance and complete the project.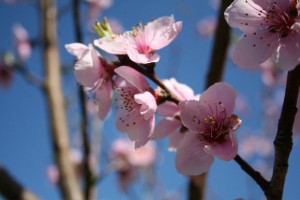 Peach tree blossoms at Seven Oaks, April 2012
After just about a year, that struggling peach tree took off! It now tops 11 feet tall.  It is the only tree in the entire yard that has peaches. At last count, there are about 25 peaches on the tree.
It dropped a lot of fruit early in the spring.  I'm still learning about growing peaches, but from what I understand, that is natural. "Thinning" the fruit enables the tree to put more energy into the remaining fruit so that they grow bigger.  I think our tree naturally dropped some extra fruit when it was still small.
Right now the peaches are turning gorgeous shades of orange-red.  They are hard as a rock, so no picking and tasting them yet!  I'm looking forward to the harvest.  Even if they don't taste as good as store bought, they're MINE…grown the way I want them to be grown…not waxed, not sprayed with all sorts of scary stuff, but grown about 20 feet from my kitchen window.
And you can't beat that for freshness.
Jeanne Grunert is a certified Virginia Master Gardener and the author of several gardening books. Her garden articles, photographs, and interviews have been featured in The Herb Companion, Virginia Gardener, and Cultivate, the magazine of the National Farm Bureau. She is the founder of The Christian Herbalists group and a popular local lecturer on culinary herbs and herbs for health, raised bed gardening, and horticulture therapy.