Growing onions from sets, or starter plants, yields better and faster results than growing them from seeds. Here's how to plant and grow onion sets.

Growing Onions from Sets
Growing onions from sets and learning how to grow onions was one of the easiest gardening projects I've undertaken this year at Seven Oaks. I've grown onions off and on since moving to Virginia but never had much luck. We'd get a few but not many.  This year, we had a good harvest.
What I Planted in Zone 6B
I started by buying the Park Seed Catalog "Short Day" (Southern) Onion Plant Sampler. It was a $14.95 investment, but well worth it, because it gave me three different kinds of onions to grow, and they were supposed to be suited for my Virginia climate. I think that was one of the keys to successfully growing onions from sets this year – I started with varieties that from my research, should and did grow well in my gardening zone and climate.
Start with a Soil Test
We did get the soil tested this year and the result was that in all of the raised beds, the compost mixture we'd added was rather acidic. Some lime, applied according to the test results and recommendations, fixed that problem just fine. You can get your soil tested at the local County Cooperative Extension office.  There is a fee, but it is worth paying it.  They can walk you through the proper steps for sampling your soil and help you understand the test results and recommendations.
When to Plant and Watering
We planted the onion sets in late March or early April, and then we added the soaker hoses.  The soaker hoses or drip irrigation seemed to be the deciding factor for all the vegetables this year.  We weren't just watering the tops of the plants with the sprinkler – we were dripping moisture to the roots, which is where the plant needs it.  And it is not just the time when you have the hose running that the vegetables get watered.  The water continues to drip for a good period of time after you shut off the hose.
Organic Onions
All in all, I'm very happy with the harvest.  We used NO chemicals, no pesticides and no fertilizes other than the compost in the soil, and the onions are large and healthy. No signs of insects or diseases at all.  We have Red Creole, Texas Early White and Texas Supersweet (which are supposed to be the parents of the famous Vidalia onion) to try.  They are drying on the front porch now and will spend some time in the hot, dry garage.  Then I will transfer them to a half bushel basket for storage in the cellar pantry.
So for my $14.95 investment, this is what we achieved:
$14.95 for the onion sets (starter plants)
Harvest: about 20 – 25 lbs onions, organic, including "gourmet" Red Creole
I found a price online of $3.99 per 3 lb bag for organic red onions, which seems about right.
Doing the math….
24 lbs divided by 3 (estimating my harvest/3 lb bag) = 8 "bags"
8 "bags" of organic onions x $3.99 each = $31.92 worth of onions
So, give or take, I've got over $30 worth of onions from a $14.95 investment – about double my money, just by letting nature do her work and adding water when needed.
How can you beat that? Gardening is amazing.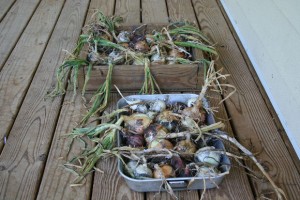 Onions drying on the front porch after harvest.
Jeanne Grunert is a certified Virginia Master Gardener and the author of several gardening books. Her garden articles, photographs, and interviews have been featured in The Herb Companion, Virginia Gardener, and Cultivate, the magazine of the National Farm Bureau. She is the founder of The Christian Herbalists group and a popular local lecturer on culinary herbs and herbs for health, raised bed gardening, and horticulture therapy.