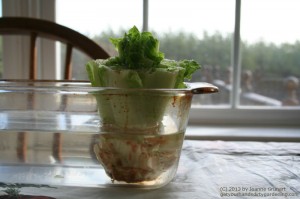 You know how you see things online and you think, "That can't work" or "That's impossible?" Well, I saw a post on Facebook a few weeks ago from someone who shared a picture of heads of Romaine lettuce growing in a tray in the kitchen. They claimed you could regrow Romaine, iceberg, even celery using just plain water. I decided to try it.
Here's the photographic evidence. It works! I used a store bought head of Romaine lettuce…you can't get any more conventional than a head of Romaine wrapped in plastic and bought from Wal-Mart. I used a very sharp knife to cut off the edible portions of the lettuce for a salad. I left a few inches on the core and submersed the core in a glass loaf pan filled with plain tap water from my well. Every day, I just changed the water and replaced it with fresh.
It took about four days before I noticed a little change in the lettuce. I thought the center portion seemed greener. Then the next morning I knew it wasn't my imagination – the central stem had grown a few centimeters. By the next day, I showed it to my husband, and we were both amazed at the rejuvenating powers of the lettuce.
It seems to grow quickly once it begins. Each morning I feel like I'm walking into Jack in the Beanstalk in my kitchen. It gains about 3-4 centimeters per day.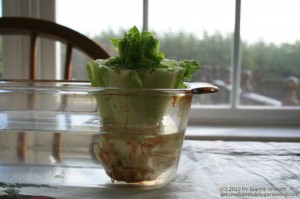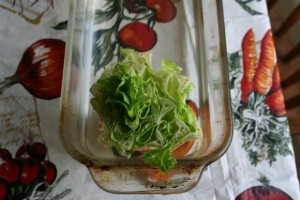 I don't know whether we can keep it growing after cutting the new head of lettuce, but as far as science experiments go, I'd mark this kitchen vegetable gardening experiment a success!
Jeanne Grunert is a certified Virginia Master Gardener and the author of several gardening books. Her garden articles, photographs, and interviews have been featured in The Herb Companion, Virginia Gardener, and Cultivate, the magazine of the National Farm Bureau. She is the founder of The Christian Herbalists group and a popular local lecturer on culinary herbs and herbs for health, raised bed gardening, and horticulture therapy.