What type of mulch should you use? I prefer wood chips but it depends on your goals.
All About Mulch
What mulch to use in the garden is both a matter of personal preference and budget. Mulch serves several important purposes. It helps the ground retain moisture near the roots of the plants, which is especially useful here in south central Virginia, where summertime droughts and heat waves can really create stressful conditions for plants.
It also suppresses weeds, although over time as it breaks down, it can become a weed incubator as I learned last year. Depending on the type you use, it can also add nutrients to the soil as it decomposes.
Types of Mulch
There are several types of mulch:
Wood chips and bark: These range from pine, cypress and cedar to mixed hardwoods.  You can purchase them in bags from the garden center or in bulk. The picture below shows my garden with the butterfly garden in the foreground, the rose garden with arbor in the background, and a white arrow pointing to last year's pile. We order a truckload in from the local nursery and have it delivered. Then we use wheelbarrows to cart it off to where we need it in the garden. This is one reason why my arms get nice definition just in time for summer t-shirt weather; I shovel so much mulch around the garden I build up muscles like a weight lifter!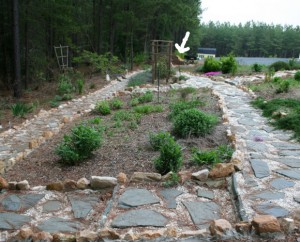 My flower garden last year in April. White arrow points to mulch pile.
Coco hull mulch: Coco hull mulch was quite popular in the 1990s where I used to live on Long Island. It's actually a byproduct of the cocoa and chocolate industry and contains the leftover hulls from the beans. It smells great, because as the sun warms it up, it smells like cocoa or chocolate.  But here's the catch; it is poisonous to dogs and many other animals. If they eat it, they can get very sick. So if you have pets I suggest avoiding it.
Glass or rubber mulch:  Glass mulch consists of stones or chips of recycled glass. It is quite beautiful but won't breakdown and help your soil. Another recycled product is rubber mulch. It is made from shredded rubber tires. Like glass mulch, it's a 'green' product in that it uses recycled materials, but it does not break down and add to the soil.
If you're mulching foundation plants, like I did in this picture around the back of my house, then you probably want something long-lasting. If your soil is good, then a manmade mulch may be just fine.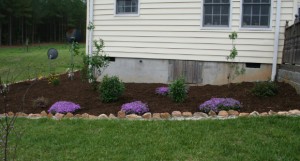 Mulch added around my foundation plants in the back of the house.
Soil Improvement
On the other hand, if you're gardening in an area like mine, and the soil is poor, you're probably looking for any chance you can get to improve it. I began my flower garden five years ago and added composted horse manure trucked in from the local stable plus a little garden activator from an organic catalog to add some microbes back into the soil.  After adding the perennials and shrubs, we added a thick layer of shredded pine bark mulch.  It's decomposed nicely into the soil.
See Worms? Good!
This year, as I raked part of the yard, I uncovered some gorgeous thick worms. I was so happy to see those little critters wriggling around in the soil!  Worms are a sign of soil health. Where there are worms, there's decomposition going on. Worms add nutrients to the soil as they poop. Did you know that people actually pay good money for bags of worm poop, euphemistically called worm casings or castings? It's true. Worm poop. Would I lie to you?
Worms aerate the soil as they tunnel along, which helps air and water reach the roots of plants. They also chomp on all the decomposing stuff like leaves and manures, helping to break them down. When you see worms in the compost pile or garden soil, it's a great sign.
Natural Mulch Improves Soil
So adding the natural mulches to my garden beds have really helped. To me, it's mimicking the cycle of nature that you see in the forests. As leaves fall in the autumn, they naturally decompose into hummus and organic matter on the forest floor. That feeds the plants and improves the soil. That is what I like about using wood mulches; they add back to the soil.
One last word of advice about what mulch to use.  When you order mulch by the truckload, as I do on our farm, I have to leave a space near the garden clear for the truck driver to deliver it.  Every year, we had a space by the garage (see the picture with the white arrow pointing to last year's mulch delivery.)  Last year, we planted flowers in that area and I added a pole for my hummingbird feeder.  This year, we chose a spot at the top of the hill leading to our house. We cleared the brush, placed a tarp, and directed the driver to unload the mulch. Unfortunately, we didn't count on mulch spreading out…and now I have a nicely mulched driveway. I had to spend a half hour last night shoveling mulch out of the driveway, and I'm afraid that at the next big rain it's going to be sluicing down the driveway and into the garage instead of the garden beds. Choose the spot where you wish to have your delivery unloaded very carefully.  Word to the wise…
Jeanne Grunert is a certified Virginia Master Gardener and the author of several gardening books. Her garden articles, photographs, and interviews have been featured in The Herb Companion, Virginia Gardener, and Cultivate, the magazine of the National Farm Bureau. She is the founder of The Christian Herbalists group and a popular local lecturer on culinary herbs and herbs for health, raised bed gardening, and horticulture therapy.