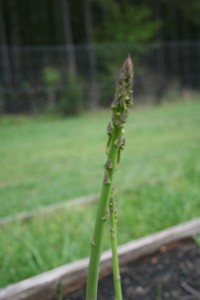 I learned how to plant and grow asparagus after moving to Virginia. It was thanks to my friend Liz in the Master Gardener program, as well as the fact sheets from the Virginia Cooperative Extension program, that really helped me learn how to plant and grow asparagus in Virginia.  I'd like to share what I learned with you.
Location 
Like most vegetables, asparagus needs full sunshine. This means six or more hours per day of bright, direct sunlight. Don't skimp on this. One thing I've learned over the years growing vegetables is that the more sunshine they get – the better.
Another tips for planting asparagus – grow it in a contained area. I saw a program on television over the weekend in which the host said that asparagus can be invasive. He suggested a raised bed, and that is how I grow my asparagus here at Seven Oaks. However, you can use an old animal trough or even an old bathtub to contain your asparagus.  If you do plant it out in the open, be ready for it to expand into the surrounding areas.
Soil
Asparagus can live 20 years or more, so before planting your first season's crowns, take your time amending the soil. Our raised beds are about 50 percent compost and 50 percent soil. We added more compost before planting the asparagus. Till the soil to a depth of about six inches if growing asparagus directly in the ground and be sure to amend it well. Asparagus like a soil pH of about 6 to 6.7 so a soil test may be in order.  Your local County Cooperative Extension can conduct the soil test and make recommendations on what to add to the soil.
Choosing Asparagus Plants
This is where I got really confused, and I wish I knew then what I know now about choosing asparagus plants. Asparagus plants are either males or females. Female plants put a lot of energy into making seeds, and less into the edible spears. So when buying asparagus plants, look on the bag for those that promise all male plants.
Another tip is to choose 1 to 2 year old crowns rather than seeds when starting your asparagus garden. You can grow asparagus from seeds, but you'll have to wait up to three years before harvesting asparagus spears to eat, and who wants to do that? Not me, that's for sure! The older the crowns, the faster you can get an edible harvest. Older crowns cost a bit more but to me, the price was worth it.
Planting Asparagus Crowns
Plant asparagus so that the crown is slightly higher than the roots. Set them about a foot or more apart. Most resources suggest fertilizing with a higher phosphate fertilizer. I also recommend drip irrigation or a soaker hose to make sure the plants receive adequate water during their first year or two (and beyond in drought-prone Virginia.)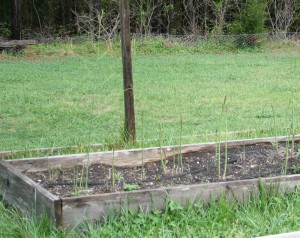 My asparagus bed in early spring. Note the soaker hose.
Let the plants grow the first year. It's tempting to want to pick off the spears, but allowing the plant to settle down and thrive is important. In year two, you can lightly harvest asparagus spears from the bed. Just snap off the spears when they are young and tender.  I can tell you from experience, the older spears have very tough, fibrous stems that do not taste good (imagine chewing on a pencil – not good.)
Asparagus can be harvested throughout the growing season. Pick spears every day for the two weeks when they emerge. They emerge when the soil temps reach about 50 degrees Fahrenheit, and once they leaf out into those tall fronds, they're no longer edible, so you have only a short window of time to pick asparagus.
We harvested six spears and enjoyed them so much. I steamed them and they were delicious, except for the tough "it tastes like a pencil" spear that got into the mix.  It's been a worthwhile experiment, growing asparagus. I look forward to many seasons of harvest to come!
My article on Harvesting and Growing Asparagus on Hub Pages.

Jeanne Grunert is a certified Virginia Master Gardener and the author of several gardening books. Her garden articles, photographs, and interviews have been featured in The Herb Companion, Virginia Gardener, and Cultivate, the magazine of the National Farm Bureau. She is the founder of The Christian Herbalists group and a popular local lecturer on culinary herbs and herbs for health, raised bed gardening, and horticulture therapy.