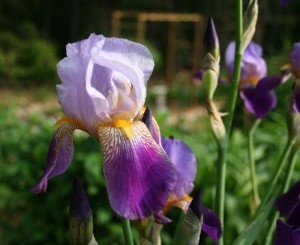 Iris have begun to bloom here in south central Virginia, and they're one of my all-time favorite flowers. Drive along any country lane here in southside Virginia and iris blossoms are like waterfalls spilling over the roadside embankments. Many farms plant them along the road's edge and volunteer plants, perhaps carried by squirrels and dug into the soft soil of weedy roadside ditches, add to the cheerful blossoms.
In my own garden I now have eight iris varieties and am hoping to add more. My latest acquisition is set to bloom, but the flowers haven't opened yet. It is one of the double white "bridal" iris; a reblooming iris with double, ruffled pure white flowers. Thanks to my friend Patty who dug up a cluster from her iris bed, I now have this lovely specimen in my garden.
If you'd like to learn more about growing iris, I've written two new articles: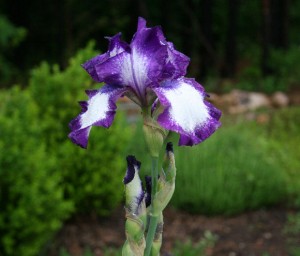 Jeanne Grunert is a certified Virginia Master Gardener and the author of several gardening books. Her garden articles, photographs, and interviews have been featured in The Herb Companion, Virginia Gardener, and Cultivate, the magazine of the National Farm Bureau. She is the founder of The Christian Herbalists group and a popular local lecturer on culinary herbs and herbs for health, raised bed gardening, and horticulture therapy.