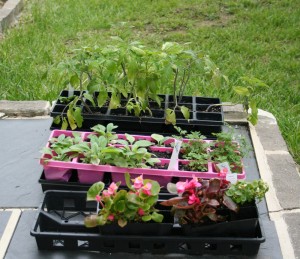 Some of the plants grown for my garden and for the plant sale.
This Saturday at the Farmville, Virginia old train depot, I'll join the Master Gardeners, contribute a plant or two, and help sell plants as part of our annual fundraiser and plant sale. It's a great sale and I always find a gem or two grown from a friend's garden. Last year I obtained a Creeping Jenny, a few neat perennials whose names escape me now, and a great African violet called Easter Bunny.  (Yes, plants have names! Growers give hybrids names.)  I thought I'd share a few tips for you folks new to gardening who want to visit a plant sale or two this summer.
Many groups host plant sales. Local garden clubs, gardening groups, even church groups.  Back on Long Island, my dad used to grow plants for our annual church bazaar. He'd sell holly cuttings he rooted and other shrubs. One year, a lady came up to him and pointed at the hollies and asked, "Is that one male or female?" Now here's a secret about hollies; there are indeed males and females. Only female hollies have the nice red berries, but they only have them when they're planted close by a male. Yes, romance in the plant kingdom. They have names and sex lives! Whee!
Anyway, my dad, being the joker he was, picked up the pot, peeked slyly under the leaves and announced, "It's a boy!"
If you attend a plant sales, avoid elderly men like my dad, okay?
In all seriousness…when you shop for plants at a plant sale, it's best to keep an open mind. It's not like shopping at a nursery or garden center. The plants may have labels, but like my dad, you may not know if the plant is a male or female holly, a special variety of chrysanthemum and what not.  Many of us, myself included, have plants in our gardens that we grew from cuttings given to us by friends or neighbors. They didn't come with nursery-style plant tags that listed the genus, species and hybrid name. I'm lucky if I can correctly identify some of them by species let alone hybrid.
Look for healthy plants without any signs of insect infestations. At the Master Gardener plant sale, we check every plant that comes in as a donation, and place on the sale tables only those that we think are in great shape for the public's gardens.  But at church sales, you may not be quite as lucky.  I've bought plants at the store that ended up being infested with spider mites; it can happen to the best.  A thorough glance over the entire plant can reveal insects, fuzzy spots and webs that hint at insect infestations.
Plant your new addition as soon as possible in the garden. For house plants, keep it away from your current collection for a week or two until you know for sure it's not carrying any insects or diseases. Then place it where you want to keep it.
Water it well. Baby that little plant for the first year. One of the benefits of plant sale finds is that they are inexpensive, but most are small cuttings or starter plants. They'll need plenty of TLC.
Don't go with a shopping list. Be open to the possibilities and to the potential of the great plants you can find there! Hopefully, you'll find some gems to add to your garden to enjoy.
Heart of Virginia Master Gardeners Plant Sale
 Saturday, May 4, 2013: The Heart of Virginia Master Gardeners plant sale at the Heart of Virginia Festival in Farmville, Virginia.  At the old train depot on Third St (near Southern States).  Opens at 7 a.m.  This year there will be gardening lectures throughout the morning given by local Master Gardener.  Come on down and say hello!
Jeanne Grunert is a certified Virginia Master Gardener and the author of several gardening books. Her garden articles, photographs, and interviews have been featured in The Herb Companion, Virginia Gardener, and Cultivate, the magazine of the National Farm Bureau. She is the founder of The Christian Herbalists group and a popular local lecturer on culinary herbs and herbs for health, raised bed gardening, and horticulture therapy.